COMPLETE TOOL SET: All 2020 A/E Benchmark Tools
Publisher: PSMJ Resources, Inc.
Date Published: 2020
Format: Excel
Price: $1,118
For previous versions of this tool contact Diane at dconstantine@psmj.com or call (617) 965-0055.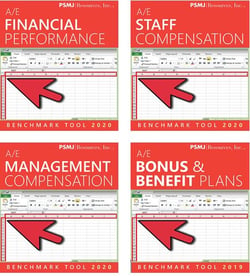 PSMJ's Benchmarking Tools make it easy to compare your firm's compensation practices and financial performance against firms of similar size and type by combining your key performance metrics and our proprietary survey data.
Just enter your firm's numbers, and a click of your mouse provides a clear, objective snapshot of where you stand against the most critical benchmarking indicators. Plus, all four tools automatically generate the charts and graphs you need to be ready for key meetings with your leadership groups. These tools are critical for making key strategic decisions as we emerge from the Pandemic and look ahead to new opportunities. It's that easy!
2020 A/E Management & Staff Compensation Benchmark Tools

See instantly if your salaries, bonuses, and raises are in line with A/E firms just like yours, saving hours of tedious number crunching.

Management:
List of Metrics

List of Positions
Staff:
---
2019 A/E Bonus & Benefit Plans Benchmark Tool (published every other year)
Make smart bonus and benefits decisions by instantly comparing your firm's incentive compensation plan and benefits package against peer A/E firms.
---
2020 A/E Financial Performance Benchmark Tool
Quickly compare your firm's financial performance using key benchmarks such as operating profits, net revenue, and more. Or, opt for a deeper dive looking at benchmarks in areas such as overhead expenses and business development.
---
RELATED PRODUCTS