Seller-Doer Online Training & In-Person Classes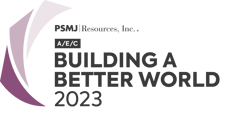 Growth and success aren't always measured by profit and other financial gains. Architecture and engineering firms are in the unique position to contribute to the health and vibrancy of our communities every day in the work that they do. But, as responsible corporate citizens, we have the opportunity to go even further…to give back through community-based volunteering, philanthropy, and more. In today's socially-conscious environment, employees and clients are putting an increasing value on working for and with organizations that make good corporate social responsibility a priority.
This award recognizes an organization in the A/E/C industry that has gone above and beyond to give back.
It could be donating money or services to social causes and nonprofits, it could be donating time to assist in community building or rebuilding efforts, it could be a program to set aside a portion of time and profits to social causes. Of course, any efforts put towards social causes community improvement is a good investment. But, we want to hear about those that have had the biggest positive impact on the company and the community.
The winner will be selected by a panel of A/E industry visionaries and leaders based on the nature and impact of the activity(ies). And, because smaller firms and larger firms have varying degrees of resources for giving back, judges will consider not just the pure dollar or time value of the impact, but the relative impact to the size of the nominated firm.
To be recognized for your firm's contributions to the betterment of your community, and enter to win our
2024 A/E/C Building a Better World Award

, click the button below.
There is no entry fee for this award. The participation deadline for the A/E/C Building a Better World Award is June 9, 2024 and winners will be announced in August 2024.
Awards will be presented at our A/E/C THRIVE conference. To learn more about A/E/C THRIVE, click here.