Entering PSMJ's A/E/C Building a Better World Award is Easy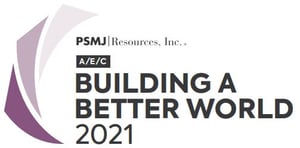 To nominate your own firm or another one that you think deserves this recognition, you just need to tell us a little bit about the firm and the actions that you believe make it worthy of this award. It could be an annual charity event, an ongoing philanthropy program, or just about anything else that has an impact on the community outside of the day-to-day work.
There is no entry fee for this award. The participation deadline for the A/E/C Building a Better World Award is June 30, 2021 and winners will be announced in July 2021.
Who is eligible?
To be eligible for entry, the nominated firm must derive more than 50% of revenue from professional services in the areas of architecture, engineering, construction, or related industries (including planning, environmental consulting, interior design, and others). The firm must also have been in business for more than one year at the time of entry and have more than 5 employees (not including temporary employees, independent contractors, consultants, interns, and volunteers) at the time of entry. If you are unsure whether a firm may be eligible, contact us at customerservice@psmj.com.