If data gathered from PSMJ's 2017 A/E Management Compensation Benchmark Survey Report, 35th Edition is any indication, the economy is growing at a slow but steady pace. Yet, according to the recent released survey, most participating firms expect their management bonuses to stay level in the coming year, indicating a moderate confidence in the economic forecast.
Overall, the 2017 A/E Management Compensation Benchmark Survey Report reveals mixed results with respect to the change in total compensation this year. Promotions, retirements, and fewer large architecture and engineering firms in this year's sample resulted in a median base salary change of 2.5% across all 18 management positions (with variations from -3.1% to 7.4%). Bonus incentives remain a key component of the total compensation package, adding significant dollars to many of the positions. The median bonus change in bonus is 17.0% across all titles, with a range from -37.8% to 260.0%. The median change in total direct compensation is 0.6% (with variations from -8.0% to 10.6%).
Interestingly, however, the overall results in yearly bonus projections are very similar to last year's edition: Those who believe bonus amounts will remain the same increased slightly from 58% to 60%, as did the percentage of firm leaders who believe bonuses will increase (23% vs. 26%). Fewer respondents expect bonus levels to decrease in comparison to last year (7% vs. 9%) (See chart below).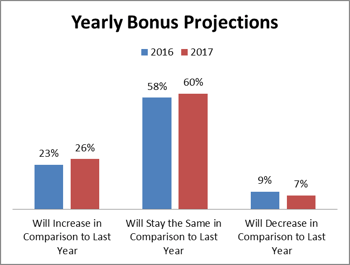 "These results continue to reflect confidence in the economy and stability in the profitability levels that are required to support the firms' 2017 bonus programs," says PSMJ's Senior Principal Dave Burstein, P.E.
In the 2009 edition of this survey (released in the final year of the recession), the percentage of firms expecting bonuses to decrease (46%) hit its highest point in 10 years.
Meanwhile, the demand for talent becomes more critical as baby boomers retire, while the availability of new graduates is not keeping up with the outflow of talent in the A/E industry. Consequently, as business conditions warrant, A/E firms should be testing new methods of attracting, keeping, and motivating key staff, Burstein contends. "As we know, cash compensation is only one spoke in the wheel when it comes to employee engagement," he says. "The need to adjust both compensation and benefits is a process that firms have to address year after year regardless of the phase of the business cycle."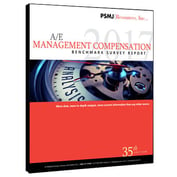 PSMJ's 2017 A/E Management Compensation Benchmark Survey Report, 35th Edition provides in-depth information on how design firms compensate their managers. With this year's data collected in January and February 2017, a total of 212 design firms representing 8,221 individual design managers participated in this survey.
You also might be interested in these compensation-related blog posts:
Trend Line: How Do A/E Firm Leaders Charge Their Time?
Data Dive: How Financial Performance Impacts Your Compensation Options
The War for Talent: Does Your Compensation Strategy Measure Up?
Trend Line: Larger Firm Equals Larger Compensation
Where Are Firms Allocating Their Business Development Time?