Typically, larger firms pay higher compensation levels—both in salary and incentive bonuses. But how large does the firm become before a visible "break" is evident and compensation really takes off — and does it happen for all management titles?

Trend information from PSMJ's 2015 A/E Management Salary Survey indicates interesting patterns in total compensation (salary plus incentive bonus) for four management titles—two at the top (Chief Executive Officer and other Principals) and two at the bottom (Senior and Junior Project Managers).
For instance, the chart below reflects what managers in the upper quartile (75th percentile) are earning this year. These values are well above the median levels reported in the survey itself.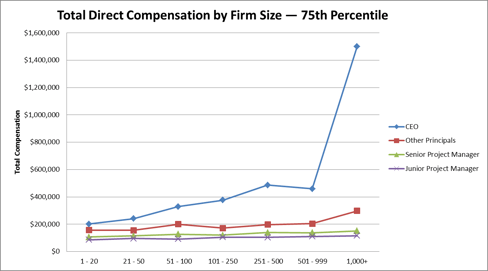 A few observations:
All four compensation levels remain relatively flat until firms reach staff levels of about 1000+ people. Compensation levels do increase with size, but no significant "break" is apparent.

Above a staff size of 250, the CEO compensation begins to rise substantially. The compensation level of other principals remains relatively flat until firm size exceeds 1,000. It then jumps higher but remains about one-fifth of the CEO's compensation.

In addition, no significant "break" is apparent at the lower end of the management ladder—senior and junior project managers. The junior project manager's compensation does rise from $85,000 to $115,000. However, this 130% increase is masked by the CEO's 300% increase in total compensation.

Obviously, most firms (of any size) have only a single CE,O but larger firms have many more project managers. As the firm grows in size, the single CEO assumes greater levels of responsibility and should expect increased compensation. Using the same logic, project managers of larger, more complex projects should also expect higher levels of compensation with respect to their peers.

PSMJ's 2015 A/E Management Salary Survey, includes the participation of 186 firms and reflects the compensation of nearly 7,500 individual design managers. This information was collected from January to March 2015, and reflects the most current salary, bonuses and total compensation measures for 18 design management titles. The survey provides breakdowns of these compensation measures within important peer groups reflecting different firm sizes, types of service, geographic locations and types of client.