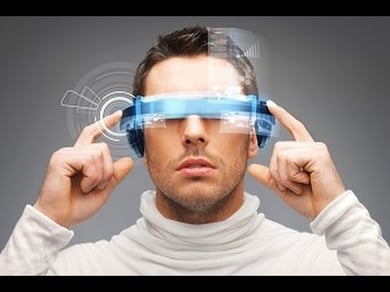 The future is here, and it's called augmented reality. You may have never heard of it, but this 3D technology, which is growing rapidly in the science and tech industries, is poised to transform the A/E industry.
Remember Tony Stark (a.k.a. Ironman) whizzing through virtual computer screen projections in The Avengers? That's augmented reality—virtual images merged with the contents of the real world that users are able to physically interact with (for a great example, click here).
Because the digital 3D models that augmented reality (or AR, if you're in the know) produces provide far more—and far better—opportunities to portray ideas than 2D models, the repercussions for the A/E industry of such a technology are profound. With AR, 3D models can portray your vision for building a project, including survey and layout, design analysis, maintenance, safety, performance, facility operations, and more.
Even better, the 3D model represented is dynamic—it changes and adjusts to the user as he or she walks around the model, giving the illusion that the building is actually there. Imagine taking clients on a virtual tour of a design while walking around the actual site!
So, how can architecture and engineering firms start integrating augmented reality into your client services? Luckily, there's an app for that.
Check out Deep Know How's Top 20 Augmented Reality Apps for Android, iPhone, and iPad. By using hardware or tools such as your smartphones, you can discover such beneficial details in the form of visual data imagery that are not visible to you normally.
With this new virtual technology, you are able to update and maintain digital projects, and are granted the power to update models as plans change and evolve—the next big thing, indeed!
PSMJ is always looking to publish diverse views on emerging issues and trends in the A/E/C industry. We invite you to submit a 500-word post on any industry-related topic. We look forward to hearing from you.
In the PSMJ Blog, we have covered technology and the A/E industry from a number of angles. Here is a list of technology-related blog posts:
10 Tips for Effective Project Management with BIM
Improve Your BIM Effectiveness
Where 3D Printing Plays in the A/E/C Arena
5 Tips on How to Survive the Marketing Tech Madness
5 Common Technology Mistakes Made by A/E Firm Leaders