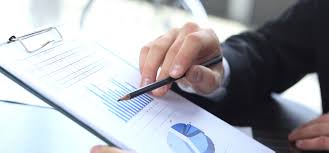 For more than a decade, PSMJ's Circle of Excellence has set the standard for high-performing architecture and engineering firms.
PSMJ's exclusive Circle of Excellence is designed to recognize firms that are successfully managed, based on 13 key performance metrics that demonstrate outstanding achievements in profitability, staff growth, cash flow, productivity, business development, overhead management, and turnover. The Circle of Excellence represents the top 20% of participants (on these key metrics) in PSMJ's annual A/E Financial Performance Benchmark Survey.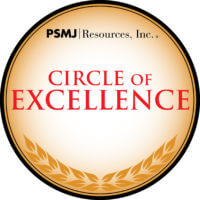 In today's ever-competitive business climate, this is a distinction that can give your firm an edge in areas such M&A, recruiting, and more. Think about it. If you are considering selling your firm or courting prospective sellers, the Circle of Excellence badge is a recognized indicator of proven success and management. On the recruiting front, touting that your firm has made it into the Circle of Excellence is hard evidence that firm "walks the walk" when it comes to being a well-managed organization.
Firms of All types and Sizes Are Eligible — No Firms Are Excluded!
Since the award's creation in 2006, Circle of Excellence members have consistently represented all facets of the industry. The key differentiator between PSMJ's Circle of Excellence and other industry awards is that all firms in the A/E industry are eligible, and firms are not excluded based on firm type, size, gross revenue, net revenue, practice area or location. Here are the 13 key performance metrics that we use to determine Circle of Excellence members:
Net Direct Labor Multiplier (Achieved)

Operating Profit (As a % of Net Revenue)

Operating Profit (Per Total Staff)

Staff Size Change

Return on Overhead

Labor Utilization Rate (Payroll Dollars)

Operating Overhead Rate (Before Bonus and/or Distributions)

Accounts Receivable Collection Rate (Days of Gross Revenue)

Net Revenue Backlog (As a % of Net Revenue)

Return on Working Capital

Gross Revenue Growth Rate

Staff Turnover Rate

Net Revenue (Per Total Staff)
This award recognizes those firms that are not only good at their practice but also at running their practice as a business.
How Can Your Firm Be Eligible for the Circle of Excellence?
Participate in PSMJ's annual A/E Financial Performance Benchmark Survey — it's that simple! Participation is open through mid-April. You will be notified if your firm has made the cut after the survey is published (generally June/July).
"We developed our Benchmark Surveys in response to the specific needs of A/E industry firms," says PSMJ's Senior Principal Dave Burstein, P.E. "This is not simply competitive research, but a way to align your firm's management objectives with known, reachable goals."
For more information about participating in PSMJ's surveys, and to become eligible for the Circle of Excellence:
Your also might be interested in these related blog posts:
Benchmark Both Billing Rates and Salaries For Firm Success
Three Actions to Supercharge Your Growth, Profit, and Business Success!
Compensation Benchmarking: How Your Strategy Can Measure Up
5 Key Performance Indicators for A/E Firms