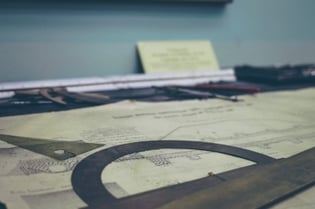 Many firms in the A/E/C industry are performing well today, with good clients, healthy backlogs, and busy project teams. But even in good times, too many firms fail to work on their operations, and as a result miss many opportunities to bring home the bucks.
Architecture and engineering firm leaders allow this to happen because they're busy, and because 'good enough' rules the day. But the Top Firms in PSMJ's Circle of Excellence (top 20% of the industry in operating and financial results) aren't satisfied with good enough. Instead, leaders in these organizations invest considerable time, effort, and money to become the best they can be. And because of this, they win.
The good news is that success strategies of Top Firms aren't a secret. You and your firm can move towards this performance level right now. Here are three actions you need to take:
Create Your Vision—Most of the super-successful companies I've collaborated with have a clear sense of purpose and destination. These firms know who they are, why they're in business, and where they're headed. Values, mission, vision, enterprise strategy – these aren't just fluffy concepts, they're critically important components of a "strategic framework" which allows principal leaders (and indeed the entire staff) to create a core purpose for the firm. In my view, nothing impedes professional firm success more than lack of organization alignment ('on the same page together') – and particularly at the principal level. But no more than a third of firms do this well - a worthy and compelling vision driving the team forward.

Detail Your Action Agenda—The old saw which claims that 'what gets written gets done' is true. Many of the internal initiatives that the firm must take to improve the business - marketing, operations, people systems, leadership and ownership transition – are frankly pretty straightforward. Solutions aren't unusually complex, they're just difficult to achieve. Senior executives, principals, and project managers are all very busy (sometimes too busy), and they focus primarily on issues that are urgent and top of mind. But Top Firms aren't satisfied with simply talking about change and improvement - they want results. Top Firm leaders detail action plans they can achieve - with initiatives, next steps, lead responsibilities, and deadlines. Principals set higher performance expectations, and stronger internal contracts with one another, to create real accountability and results. Because it's important, these professionals do a better job of following through on promises made. Creating a list of priority internal improvement initiatives isn't rocket surgery, and about half of firms do a pretty good job of it. But the real magic of the action agenda is getting it done.

Hire an Advisor—Developing a good business improvement plan is hard, especially one that creates agreement on the big objectives of the strategic framework. Most teams struggle to step out of their zone of comfort, to stretch beyond what's known and safe, and to take on a bigger risk. It's hard to be candid, direct, and critical with one another. Moreover, even if we agree on a plan of action, it's challenging to keep up the momentum in accomplishing the objectives. For most organizations what's needed is outside help – industry specific experience and expertise in what to do, how to do it, and how to get it done.
Each Friday evening when I pour myself into an airplane seat for the trip home (spent from a tough client planning engagement) I always ask myself how well we did. Did we lead the client to a place they couldn't go themselves? Did we push the boundaries of potential success as far as we could? Did my contribution really matter? And almost always my answer is yes – not because I'm a great, but because this is how it is. It's just easier to work as a team, with an outsider, than it is to go it alone.
If you and your firm are doing well today, but still concerned about the future, or not satisfied with 'good enough,' then perhaps it's time for you to change - to enlist some help, create a new vision, and get busy building and executing your own plan for growth, profit, and sustainable success. Because that, my friend, is what the Top Firms do.
About the Author: John Doehring, C.M.C is Executive Leader at PSMJ Resources, Inc.

In PSMJ's complimentary ebook Successful Strategic Planning For A/E Firm Leaders, you'll find specific suggestions to help you think of "planning" as something you do all the time, tending to it at regular intervals—as a process that never ends and an ongoing part of running a successful business.
Other strategic planning related blog posts:
8 Tips For Making Your Strategic Planning Meeting A Success

Get Strategic With These Planning Questions

Establishing Your Strategic Plan