In any survey of a group of firms, each individual firm uniquely defines particular attributes and responsibilities, and then associates them with specific management positions. So, people from different firms with the same title may have significantly different responsibilities.
Consequently, data points of interest in PSMJ's 2019 A/E Management Compensation Survey Report include the time architecture and engineering firm leaders charge to client projects and to marketing and business development.
As shown in the chart below, current data indicates that time charged to client projects is more common in project-related titles (e.g., project managers, department heads, etc.). Project managers and senior product managers, for instance, average 77 and 75 percent chargeability respectively. Meanwhile, senior managers dedicate averages of between 26 to 53 percent of their time working on projects.
Of course, in very small firms (1 to 20 total staff), chargeability can be high even for senior manager titles, indicating their management duties are considered a part-time task, with project execution as a large part of the managers' responsibilities. It is very unusual for most administrative, financial, and marketing/business development positions to charge much time to projects.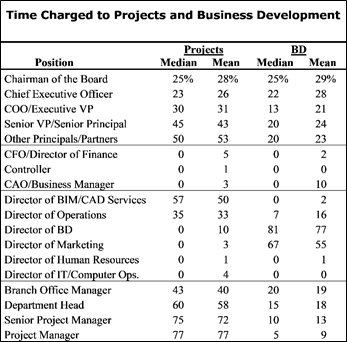 Meanwhile, survey data also indicates the percentage of time charged to client relations and the business development overhead accounts of design firms, thus revealing the relative commitment of firm leaders to marketing and selling the firm's services.
Unfortunately, time allotted to support business development may be understated because many firms do not record senior managers' time for these activities separately from other overhead functions. The industry has a habit of under-recording business development time charges due to government contract cost regulations and poor time recording habits by principals and senior management.
However, since each firm's policies on time recording are consistent within the individual firm, the internal relationship of time spent in business development should reflect an accurate comparison among positions in the firm.
As indicated in the chart above, senior managers dedicate averages of between 13 and 25 percent of their time to marketing and business development, significantly less than the time spent working on projects. What's also of interest is how little (an average of 10 percent or less) senior project managers and project manager's charge to marketing and business despite the rise of what the A/E industry deems the seller-doer model.
PSMJ's 2019 A/E Management Compensation Survey Report contains data on the total range of management positions in A/E firms. The information, collected from design firms in January and February 2019, reflects compensation practices and policies in effect as of January/February 2019, plus bonuses and retirement contributions paid at the end of 2018.
You also might be interested in these related PSMJ blog posts:
Is Your Benchmarking Giving You the Right Answer?