A/E Management Compensation
Benchmark Survey Report
Publisher: PSMJ Resources, Inc.
Date Published: 2019
Number of Pages: 350
Format: Hardcopy & PDF
Price: $587
For previous versions of this survey contact Diane at dconstantine@psmj.com or call (617) 965-0055.
---
A/E Management Compensation Benchmark Survey Bundle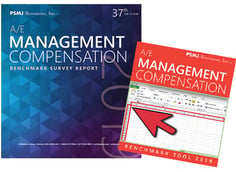 Survey Report + Benchmark Tool =
The Superior Decision Making Resource
Save big and get even more value from your Survey Report when you bundle it with PSMJ's A/E Management Compensation Benchmark Tool.
The Benchmark Tool, gives you sophisticated MS Excel spreadsheets that make it easy to compare your firm's bonus and benefits against firms of similar size, service, client type, and market. Just input your data, and instantly get a clear, objective look at where your firm stands, using the latest benchmarking indicators.
BELOW: Learn more about our other architecture and engineering survey reports on Management Compensation, Staff Compensation, and Financial Performance.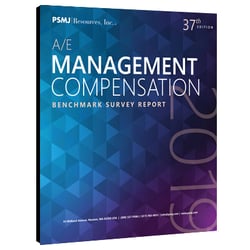 Whether your leadership team would fit in your office or it's spread out across the globe, you need a data-driven and defensible strategy to be sure your compensation structure is effective, fair, and reasonable.
When manager and executive comp bloats, your cash flow and profits suffer…and disruptive layoffs become the only fix. But when you underpay, you risk that "do you have a minute?" meeting where one of your top performers breaks the news she is leaving.
Regular management compensation benchmarking is the "ounce of prevention" that is way more cost effective than a "pound of cure". But using low-quality data leads to low-quality decisions and that cause irreparable damage to your firm. So how do you get the highest quality benchmarking data available?
PSMJ's 2019 A/E Management Compensation Benchmark Survey Report packs the management compensation benchmarking data you need into an easy-to-read format. You get 2019 survey data on everything from healthcare contributions to fringe benefits, salaries, and bonus amounts for 18 management roles working in private and government sectors. You also get:
Time allocation for projects, business development, and overtime by position
Past and projected salary increases for partners/principals, managers, and more
Projected bonus levels
Personal time off and various perks for management positions
Details on how compensation compares between positions
Historical compensation trends over the past decade
And much more …
Only the best benchmarking data is:
Vetted. Our data is gathered through an in-depth survey that is scrubbed against a series of error traps and reviewed from multiple angles for reasonableness.
Unbiased. Our data is provided by employers rather than employees. That means a higher degree of confidence that the salaries are current and accurate…not over- or under-stated to support an ulterior motive.
Comprehensive. Our data is way more than just simple salaries. This report digs deep into cash and non-cash components to give you the full picture.
Don't go another day wondering if you got compensation benchmarking right in your A/E firm. With this data at your side, you get confidence and peace-of-mind that you can't get anywhere else.
---
RELATED PRODUCTS