New PSMJ research finds that many firms still struggle to find effective incentive compensation programs.
According to PSMJ's 2017 A/E Bonus & Benefits Benchmark Survey Report, only 48% of survey respondents believe that their architecture and/or engineering (A/E) firm's bonus program is driving individual performance and behavior.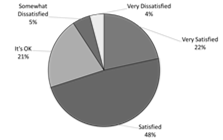 Because the fundamental objective of any bonus program is to change behaviors and align them to achievement of well-defined goals, this is not a positive sign for the A/E industry. One silver lining is that this does represent improvement from two years ago when only 39% of survey respondents believed that their bonus program was doing enough to motivate and inspire their staff.
Unfortunately, for too many A/E firms, there is much work to be done on building transparent incentive compensation programs that have a clear cause/effect correlation. For starters, many firms are paying bonuses annually and that is far too infrequent for employees to draw a clear correlation between performance and payment. In fact, some of the most successful A/E firms include small (but frequent) spot bonuses as a part of their programs.
"Even something as small as a $50 gift card given immediately and unexpectedly for going that extra mile to meet a client deadline can be very effective," comments PSMJ Director David Burstein, P.E. "The other element of transparency in bonus programs is a big one. For many firms, when annual bonuses are actually paid out, the recipient sees bonus calculations as a 'black box' where he/she isn't exactly sure what to do throughout the year to have an impact on that bonus amount."
PSMJ recommends establishing a clear framework of the type of behavior and performance that drives incentive compensation, sharing key performance indicators so that everyone can see how their behavior is impacting firm performance, and paying bonuses frequently enough to reinforce the connection between behavior and bonus.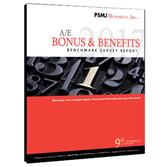 Now in its 9th biennial edition, A/E Bonus & Benefits Benchmark Survey Report provides data on the various types of incentive bonus plans and other employee benefits provided by firms in the A/E industry. In addition, the report analyzes the level of satisfaction with various types of bonus and benefit plans. We report the results by firm size, type of service, geographic location, type of client, and client marketplace. To benchmark your A/E firm's bonus program, employee benefits, and much more, get your copy here.
You also might be interested in these related posts:
Data Dive: How Financial Performance Impacts Your Compensation OptionsProject-Based Businesses and Incentive CompensationThe War for Talent: Does Your Compensation Strategy Measure Up?Trend Line: Larger Firm Equals Larger Compensation