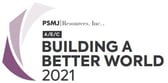 2020 Recipient of the A/E/C Building a Better World Award
The 2020 recipient was Core States Group of Ambler, Pennsylvania.
Core States Group's commitment to give back and help others starts at the top with the firm's leaders encouraging community involvement from every one of their 325 employees. The firm provides paid time off specifically for community involvement and, since 2015, employees have donated thousands of hours to a wide range of causes. The positive impact inside and outside the firm is powerful.
Awards are presented at our A/E/C THRIVE conference. To learn more about A/E/C THRIVE, click here.