A/E Staff Compensation
Benchmark Survey Report
Publisher: PSMJ Resources, Inc.
Date Published: 2021
Number of Pages: 650
Format: PDF
Price: $687
For previous versions of this survey contact Diane at dconstantine@psmj.com or call (617) 965-0055.
A/E Staff Compensation Benchmark Survey Report + Tool Bundle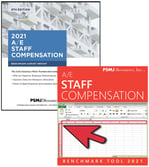 Survey Report + Benchmark Tool =
The Superior Decision Making Resource

Save big and get even more value from your Survey Report when you bundle it with PSMJ's A/E Staff Compensation Benchmark Tool.

The Benchmark Tool provides sophisticated MS Excel spreadsheets that make it easy to compare your firm's bonus and benefits against firms of similar size, service, client type, and market. Just input your firm's data, and instantly get a clear, objective look at where your firm stands, using the latest benchmarking indicators.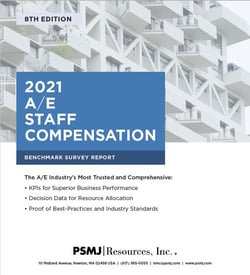 "We always use PSMJ's compensation data to make informed compensation decisions. When looking forward to a new year, it's hard to know what the market considers too low of an increase and what's too high without peer A/E firm numbers. PSMJ survey reports are a great resource for hard to find information. It helps us to feel confident that we make the best possible decision while being able to communicate to employees how we got there."
Julie Burke
Human Resources Manager
Klein & Hoffman, Inc. Architectural & Structural Engineering
Chicago
In good times or bad, flawed compensation models can wreak havoc on staff morale and cash flow. But, you don't want to make critical salary adjustments or bring in new hires based on unvetted or irrelevant data.
In 2014, we added this staff compensation survey for one reason…our consultants just couldn't find data to develop rock-solid and defensible strategies. What was out there was often unreliable and unvetted.
Only the best benchmarking data is:
Vetted: Our data is gathered through an in-depth survey that is scrubbed against a series of error traps and reviewed from multiple angles for reasonableness.
Unbiased: Our data is provided by employers rather than employees. That means a higher degree of confidence that the salaries are current and accurate...not over- or under-stated to support an ulterior motive.
Comprehensive:
Our data is way more than just simple salaries. This report digs deep into cash and non-cash components to give you the full picture.
The PSMJ 2021 A/E Staff Compensation Benchmark Survey Report provides detailed compensation data for 60 professional staff and technical positions as well as several support positions based simply on discipline and years of experience.
With the PSMJ 2021 A/E Staff Compensation Benchmark Survey Report, you can:
Quickly compare your salary and bonus strategy to peers and competitors
Determine how compensation compares between positions
Integrate your compensation strategy with your overall operational/financial goals
This information-packed 2021 A/E Staff Compensation Benchmark Survey Report includes benchmarks such as:
Base Salary
Bonus Amounts
Total Compensation
Billing Rates Chargeable/Non-Chargeable Time Allocation
Retirement Contributions
Detailed Position Profiles
And Much More!
*Our data is broken down by firm size, region, and client type. Peer group data is dependent on the number of participants for each position.
Don't go another day wondering if you got compensation benchmarking right in your firm. With this data at your side, you get confidence and peace-of-mind that you can't get anywhere else.

RELATED PRODUCTS