Microsoft's recent purchase of LinkedIn for a colossal price of $26.2 billion has financial, business, and technology pundits waxing quizzical (see below) on why the software giant has paid such a hefty price for the financially struggling social networking site.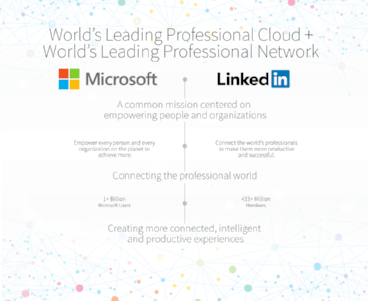 However, after a little bit of thought, the reason is nothing less than obvious, and yes, even a bit alarming: LinkedIn provides the tech giant access to tons of business and personal data on LinkedIn's 433 million professional users.
According to the joint press release, LinkedIn is the world's largest and most valuable professional network and continues to build a strong and growing business. Over the past year, the company has launched a new version of its mobile app that has led to increased member engagement; enhanced the LinkedIn newsfeed to deliver better business insights; acquired a leading online learning platform called Lynda.com to enter a new market; and rolled out a new version of its Recruiter product to its enterprise customers.
It seems that all of this is well worth the big price tag and more to Microsoft, which has been seeking to get a leg into the social networking arena for a while now. The company previously set its sights on Facebook, but to no avail.
"The LinkedIn team has grown a fantastic business centered on connecting the world's professionals," says Satya Nadella, CEO of Microsoft. "Together we can accelerate the growth of LinkedIn, as well as Microsoft Office 365 and Dynamics as we seek to empower every person and organization on the planet."
In other words, Microsoft wants to leverage LinkedIn data to enhance its Cloud, email and CRM offerings, thus building an infrastructure for more effective engagement with the business community—i.e. do what Facebook and Google has achieved in the consumer arena.
The joint announcement also says that LinkedIn will retain its distinct brand, culture and independence. Jeff Weiner will remain CEO of LinkedIn, reporting to Nadella. The transaction is expected to close this calendar year.
"Just as we have changed the way the world connects to opportunity, this relationship with Microsoft, and the combination of their Cloud and LinkedIn's network, now gives us a chance to also change the way the world works," says Weiner.
Call me paranoid, but such a change "in the way the world works" seems worrisome. In a nutshell, as LinkedIn continues to grow its network of professionals, Microsoft's does as well. As a marketer, I can certainly see the efficacy of such real-time access to information on one's targeted audience, and yet as a consumer, I already cringe at all the information Google and Facebook gather on my interests and buying habits.
What's the upshot of Microsoft's purchase of LinkedIn? A good number of LinkedIn users are architecture and engineering firm leaders and design professionals, and so there's a good chance the acquisition will have an impact on our industry. But only time will tell!
About the Author: Margot Suydam is PSMJ's Content Development Manager. With 20 years experience as a business editor and writer, she has reported on emerging trends in digital media, information technology, and computer security. She can be reached at msuydam@psmj.com
What We're Reading
Financial, business, and technology pundits offer up a wide variety of viewpoints on the implications of Microsoft's purchase of LinkedIn. Here's a sampling:
Why Microsoft Bought LinkedIn (The Wall Street Journal)
6 Reasons You Should Really Worry About Microsoft Buying LinkedIn (Inc.)
Why Microsoft Buying LinkedIn For $26B Is A Smart Move (Fast Company)
How Microsoft could leverage LinkedIn's business (CIO Dive)
This Is The Real Reason Microsoft Bought LinkedIn (Forbes)
Now it's your turn: What are your thoughts on the implications of Microsoft's purchase of LinkedIn?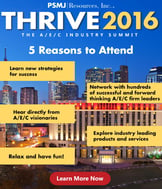 There is no question that technology's rapid evolution is constantly changing the status quo for almost every major industry and it certainly impacts how we live our daily lives. In A Brave New World: Who Will Survive and Who Will Thrive When Technology Reshapes the A/E/C Industry? Barry LePatner, Founder, LePatner & Associates, takes you on a journey to understand why A/E/C professionals are now faced with the "bet the business" choice of a lifetime. This THRIVE 2016 - THE A/E/C INDUSTRY SUMMIT session spotlights seven advanced technologies that will enable the A/E/C industry to take major steps toward increased efficiency, productivity, and profitability in the next ten years.
Don't miss out on all the exciting learning and networking opportunities at THRIVE 2016 - THE A/E/C INDUSTRYSUMMIT, to be held October 12-14, 2016 in Nashville.
In the PSMJ Blog, we have covered technology and the A/E industry from a number of angles. Here is a list of technology-related blog posts:

10 Tips for Effective Project Management with BIM

Where 3D Printing Plays in the A/E/C Arena

3D Printing for A/E/C: How Viable is It?

5 Tips on How to Survive the Marketing Tech Madness

5 Common Technology Mistakes Made by A/E Firm Leaders

Mastering Technology for Firm Success