The best innovation is driven by those who regularly encounter unsolved problems or the need for a better way of doing things.
Today, in mid- to large-size firms, it's frequently Gen-Xers and Millennials who are in the position to encounter these frontline challenges, but they are often not in a position to drive change—or even fully develop the solution on their own.
One firm, SSOE Group, a global project delivery firm for architecture, engineering, and construction (A/E/C) management, has addressed this issue head on. They have translated a model frequently used in Silicon Valley, the Hackathon, to gather ideas from Gen-Xers and Millennials, and drive them through to implementation for the benefit of the firm.
Vince DiPofi, PE, Executive Vice President/Chief Strategy Officer and Mark LaBell, BIM/CAD Technical Leader will explore SSOE's experience in "Optimize the Collective Knowledge of Your Employee Demographics,"a learning session at PSMJ's upcoming THRIVE 2016 – The A/E /C Industry Summit, to be held October 12-14, 2016 in Nashville.
The Hackathon approach provides Gen-Xers and Millennials with the resources to more fully develop their ideas, and then gives them a direct line to upper management to make a business case for implementation. The resulting benefit is two-fold: engaging Gen-Xers and Millennials with the opportunity to play a part in an organization's strategy while introducing a new source of ideas for innovation to revitalize goals of executive management.
DiPofi and LaBell will highlight the success of this model, using examples from the firm's own "Hackathon, " in their session on Thursday, October 13, 2016 at 10:00 am.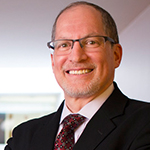 Vince DiPofi Jr., P.E. is the Executive Vice President and Chief Strategy Officer (CSO) of SSOE. As CSO, Vince is a key advisor to the CEO, and facilitates strategy in conjunction with other business leaders. His responsibilities include oversight of SSOE's process operational units, business development, construction management, and all of SSOE's international operations, including Mexico and China.

Mark LaBell is a Senior Virtual Design & Construction (VDC) Technical Leader and Senior Associate at SSOE. He has a passion and unparalleled dedication for the practice of VDC methods in the A/E /C industry, and is the driving force behind the implementation of SSOE's annual Hackathon.

Access to learning opportunities like this is just one of the many reasons why you should join us at THRIVE 2016 – The A/E /C Industry Summit in Nashville on October 12-14! Over the years, CEOs, CFOs, COOs, and other senior-level A/E/C firm leaders from around the world have made sure they don't miss out on this unique two-day event. Check out the conference agenda, which includes leading-edge keynote speakers and learning sessions on today's key A/E/C issues, along with plenty of time for networking and celebrating our industry's leaders.
You also might be interested in these related blog posts:
From PSMJ's A/E/C Industry Summit: Cracking The Millennial Code
How to Get Millennials to Buy In to Firm Ownership
How to Work Millennials into Your Transition Plan