 Leaders of professional services firms commonly speak of the importance of three groups: clients, employees, and community. But spend any time with their firms and you'll likely find that these three aren't treated with equal attention.
In virtually every organization I've ever worked with, the actions of principals suggest that clients are much more important than staff. As much as 80% of the time and effort of the firm is spent on satisfying customers - with little apparent regard to either the internal team or external community.
Of course the reason it's this way is obvious: clients pay the bills. If we don't take care of customers they'll leave, and with them so goes the firm. And we know that clients will react in predictable ways when we let them down —complaining, not paying their bills, moving on for good.
I know that many of you will disagree, but I think we focus too much on clients. The firm's customers aren't the only reason for the business. And remember Rule #1: The customer is always right! Well in my view this is one of the single dumbest ideas ever dreamed up by the business pundits. (In today's world I sometimes wonder frankly if the customer is ever right).
I'd say it this way: The customer is always important. The client is the owner and object of our work and our craft (what we love about our business). The client is a big part of why we exist, our raison de'tre. My own mission statement is completely client focused: "to help leaders plan for the future, grow their business, and make more money."
Still, I'm convinced that it's just not good enough anymore to focus all of our passion on clients. A professional services firm is really nothing but the collective team of people working in it. Staff are the only meaningful asset of the firm. And most leaders are reporting again that finding, nurturing, and keeping talent is the single biggest challenge they face in business today. We speak of the 'war for talent,' but what I see all too often looks more like a war on talent. Isn't it time to shift the model toward investing more in our team – the people who make the magic happen every day?
Despite our talk of trusted relationships, clients will switch if they're not happy with our performance. And in an increasingly competitive world, many of these relationships are it seems becoming ever more transactional. By contrast, the architecture/engineering/ constructure (A/E/C) employer-employee bond has been very strong historically (most professionals stay on for the long haul). But this is changing, and will likely shift more quickly with a newer, more transient generation in the workforce. Add in a very low unemployment rate and you've got a real employee buyer's market.
Progressive firm leaders are already taking action, focusing considerable effort and energy on their 'people system:' recruiting, on-boarding, training and development, mentoring, performance and career management, compensation, leadership development. And many are finding that if they build the best team, and then take care of each other—then clients will be well served, and the firm will enjoy ongoing, sustainable, success.
How about you?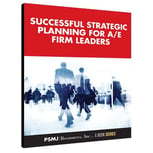 Looking for more tips, check out Successful Strategic Planning For A/E Firm Leaders.
In this free e-book, you'll find specific suggestions to help your architecture or engineering think of "planning" as something you do all the time, tending to it at regular intervals—as a process that never ends and an ongoing part of running a successful business.
Other strategic planning related blog posts:
Three Actions to Supercharge Your Growth, Profit, and Business Success!
8 Tips For Making Your Strategic Planning Meeting A Success

Get Strategic With These Planning Questions

Establishing Your Strategic Plan