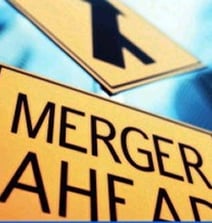 Here's a recap of some of the latest A/E/C mergers and acquisitions that have been announced in recent weeks.
May 15, 2019 – Public infrastructure engineering firm Murraysmith (Portland, OR) merged with Quincy Engineering, which specializes in transportation and bridge design, water/wastewater engineering, and construction management. "I'm so excited to merge with a firm that holds a similar mission. The Quincy Engineering and Murraysmith teams have been collaborating for nearly 10 years, and we're excited to be moving forward together," said Murraysmith President and CEO Chris Rayasam.
PSMJ provided transaction advisory services for Quincy Engineering.
April 20, 2019 – Sandman Structural Engineers (Moorhead, MN), a structural design and construction engineering firm, acquired structural engineering firm Structural Design Associates (Champlin, MN).
PSMJ provided transaction advisory services for Sandman Structural Engineers.
May 8, 2019 – Goodwyn Mills and Cawood (Montgomery, AL) completed an acquisition of Hutchinson Moore & Rauch (Daphne, AL), an engineering, surveying and land planning firm. "GMC and HMR have collaborated on several projects over the years, and we are excited about our partnership moving forward," GMC Regional Vice President Lee Walters said. "They have an established history and reputation of providing quality work along the Gulf Coast for nearly two decades. We believe the combined expertise and range of work of our two firms will fortify and expand our depth of resources to better serve our clients."
May 7, 2019 – Eco Engineering (Cincinnati, OH), a design-build firm that specializes in lighting systems, acquired InVision Technologies (Coppell, TX), a similar lighting design company. "Eco Engineering remains committed to helping our customers reduce their energy operating costs while making a positive impact on the environment," said president and CEO Tom Kirkpatrick.
May 2, 2019 – Barr (Minneapolis, MN), an engineering firm focused on environmental services, acquired Marquez Environmental Services (Denver, CO), a woman-owned small business providing environmental management consulting services. Barr's CEO John Lee said, "Joining forces with Marquez Environmental Services enables us to expand the range of environmental services we offer clients and prospective clients," adding that "we're also pleased to establish a Denver base with a team of experienced colleagues."
May 1, 2019 – WSP (Montreal, CA), a firm providing management and consultancy services across multiple engineering platforms, completed its acquisition of Indigo Planning Limited (London, UK), a planning consultancy. WSP's leadership commented "the coming together of our planning teams, with the addition of Indigo's specialist town-planning capability, will bring us into the top tier of the UK planning market."
April 29, 2019 – WorleyParsons (North Sydney, Australia) has completed its acquisition of Jacobs Engineering Group Inc.'s Energy, Chemicals and Resources division for USD$3.2 billion. Andrew Wood, WorleyParsons' CEO said, "This merger is about more than capacity and capability. It's about opportunity. The opportunity to become the partner of choice for our customers, the employer of choice for our people and to deliver enhanced returns for our shareholders."
April 26, 2019 – Gray, Inc. (Lexington, KY) acquired SPEC Engineering (Plainfield, IL), a process engineering and equipment fabrication company. "We're thrilled to take this next step with SPEC to better meet our customer needs under one company umbrella," commented Stephen Gray, president/CEO of the construction subsidiary of Gray, Inc. "Gray and SPEC are completely committed to providing full, turnkey solutions to the highly dynamic food and beverage market."
April 25, 2019 – LJB Inc. (Miamisburg, OH), a firm specializing in civil/structural engineering and environmental/safety services, acquired JEWELL Engineering (Kernersville, NC), a water resources engineering firm. "LJB's strategic plan called for bolstering our water resources capabilities, so we're thrilled to add the JEWELL team's impressive expertise," said Rod Sommer, CEO of LJB Inc. "Providing design and consulting services to municipalities has always been a big part of LJB's mission. We are excited to grow our capabilities, as well as bring expanded services to JEWELL's clients."
April 24, 2019 – KAI Enterprises (St. Louis, MO), a multidisciplinary engineering firm, acquired Fratto Engineering (Arlington, TX), a woman-owned MEP engineering firm. "Their insight, knowledge and personal touch serves us well as we provide additional resources and experience to our growing client base," said KAI President Darren James.
April 10, 2019 – CannonDesign (Buffalo, NY) acquired consulting firm Blue Cottage (Ann Arbor, MI) "Our new partnership … will immediately expand our design impact, providing more comprehensive and forward-driven solutions," says Brad Lukanic, CEO of CannonDesign. "Our firm is strategically focusing on investments that strengthen and tailor extraordinary solutions for our clients. The energy of our two firms joining together will rapidly expand the impact for our clients and their greatest challenges."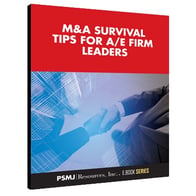 Merger & Acquisition (M&A) activity in the architecture and engineering space is certainly on the upswing and well on its way to reaching pre-recession levels. But, how ready are you for taking on the task of buying or selling an A/E firm? If you are looking for tips to help your firm navigate through the M&A process, check out PSMJ's complimentary ebook M&A Survival Tips for A/E Firm Leaders.
Other M&A Related Posts:
Getting Ready to Sell? Think Like a Buyer!
What You Must Know About Private Equity
Growing Revenue = Growing Valuation? Be Careful What You Wish For!