Except for a half-dozen or so firms in Detroit, U.S. architecture/engineering (A/E) firms escaped the revolution in QM thinking that changed the way design firms approached quality issues in the UK, Australia, and some other countries. If you are still thinking in terms of QA/QC or QC/QA, you are about 15 years behind the times in your quality awareness.
You are probably also unaware that the international quality standard has changed significantly, and much for the better for design professionals. The 2015-2016 version, for example, no longer requires any mandatory procedures. It is up to the system builder to assign them, according to the needs of the industry.
The second version of ISO 9001 (1994) still used the "QA" idea: Quality systems – Model for quality
assurance in design, development, production, installation and servicing. That's where "QA" came from. By the time the third version was introduced in 2000, it had been long obvious to the international ISO committee that "assurance" was only a part of the picture.
The title of the new standard was Quality Management Systems – Requirements. In this structure, QA and QC are
just two of the sub-headings of an overall management strategy. In simple terms, in our industry, "QA" is a promise made to a client, and "QC" is coordination and checking of contract documents. Every design firm does both of those things – in the first instance to woo the client, and in the second, to avoid trouble during construction.
So let's stop the "QA/QC-speak" and call it by the right name: Quality Management.
The Research
There is a glaring paucity of research on quality management in the design professions, and along with
the ignorance that comes from not knowing much about something, a lot of misinformation and myths abound.
The prevailing attitude is "I've made up my mind, don't confuse me with facts."
There is one recent, extensive study highly relevant to U.S. engineering as well as to engineering in other countries. On August 1, 2007, the I-35 bridge over the Mississippi River in Minneapolis collapsed, triggering a lot of long overdue soul-searching at DOT organizations across the country. This soul-searching culminated in a July 2011 Report, "Best Practices in Quality Control And Assurance in Design." (Note that QA/QC is very much part of the thinking).
The report was the result of a study group comprised of senior officials from the DOTs in LA, WA, MD, MN, UT, NJ and PA. The team studied what were considered to be "innovative or standout" QC/QA programs in NY, PA, KY, MN, GA, OR, and CA, with additional input from DOTs in OH, WA and IL.
I haven't space here to summarize this 100-page report. But from my perspective, the comments in it about QA and QC show a widespread lack of understanding of the intent of the international quality standard. In particular, the QA/QC focus almost completely misses critical aspects of quality management. Here's an example:
"One of the biggest challenges each of the visited states faced was showing the benefit of time spent on QA processes. They asked, 'How can we convey or market to decision makers that these quality programs are worth time and funding?' Overall, a successful quality program should be able to show that better quality in plans equals longer life and cost savings on projects. Many states recognize that a quality set of plans does not always equal a quality design, and that sustainability, constructability, and other considerations should be taken into account to really instill quality into a project."
Had this august working group had a better understanding of ISO 900:2000, they would have realized that the very things they felt had to be added to a "QA/QC" program are in fact required under the standard for the problem they were studying.
The report states that all states use checklists and other tools to improve quality, and that some go further and have implemented quality training programs, quality reviews, and other initiatives that give them
better quality outcomes.
This sounds like I am castigating this study. Not so: It is a good piece of work filled with excellent research, solid findings, and, I am certain, a highly useful document for use throughout DOTs across the country.
My comments are not intended to denigrate the hard work put in by the committee, only to make the point that very, very few U.S. design-for-construction organizations have any real concept of the purpose, strength, and flexibility of the international quality standard, or how to use it effectively. That appears to include those on the study committee.
In a following post, I will present more detail on what A/E firms ought to think carefully about before launching into building a QM System (QMS).
For now, click here to get more information on QM systems for A/Es.


About the Author: Charles Nelson, AIA, LFRAIA, is the Director of PSMJ's Australasia practice. He is also known for writing and speaking extensively on project and practice management. Reach Charles at cnelson@psmj.com.
You also might be interested in these project management-related blog posts:
4 Essential Project Management Tips for A/E Professionals
How to Overcome Impediments to Effective Project Management
Project Change Management – How Other Industries Do It
Today's Top Ten Project Management Trends
Transportation Project Management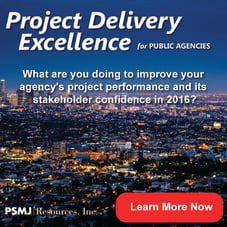 Interested in more project management best practices? PSMJ's Project Delivery Excellence For Public Agencies focuses on simple project management approaches that achieve better results than traditional, less-effective, more time-consuming methods. This program will provide you with the tools to more efficiently manage multiple projects while controlling the schedule and budget and the changes that inevitably happen. Our project management protocols focus exclusively on
the public works environment and issues that specifically hit the public sector on a daily basis.