Project management training is essential to project success. Without any form of formal training, the following are common impediments that can prevent an individual from becoming a strong project manager:
Lack of education—Most PMs are promoted from technical positions, and their training neglects managerial techniques. Yet finance, communication, leadership, and negotiation are among the skills needed to succeed in project management.

The principals—Responsibility for project management must be accompanied by authority. Principals who won't delegate authority can hurt the project manager's effectiveness.

Too many projects—Too many projects may prevent the project manager from giving enough attention to each one, especially when management tasks take second place to technical and other responsibilities.

Clients who don't understand project management—Unseasoned clients on a "cost-plus" basis balk at paying for time they don't see as advancing the technical work.

Lack of commitment—Many project managers accept their position not from love of the position's duties, but because they see it as the only way to get ahead in the firm.

Lack of authority—Responsibility without the accompanying authority leads to frustration.

Lack of participation during negotiations—Project managers who have fees handed down to them from above don't have the same commitment to maintaining those budgets as those who negotiate the fees.

Lack of "people" skills—Project managers who don't stay in touch with their clients and the production staff always have problems. Frequent conversations and the required paper trail must be in place.

Lack of knowledge about the client—Project managers who don't understand their client's business and goals can't deliver a good project.
Overcoming Your Weaknesses
To overcome these shortfalls, effective project managers receive training in the following areas:
Negotiating—Project managers should be involved in fee negotiations. PMs need specific instruction on the strategies and tactics of design service fee negotiation.

Contract writing—Project managers need to know what goes into a contract for design services, including how to minimize liabilities and maximize profit on each project.

Letter and memo writing—Project managers must write letters and memos. Too often this correspondence is confusing and vague, hurting the firm's ability to meet the client's expectations for the project.

Appropriate dress—Technical professionals who have not spent much time in front of clients are often thrust into project management roles. Whether it's a professional/casual climate or a formal one, PMs should be tuned in to proper business attire.

Public speaking and presentation—To get the job, review progress with the client, or gain public approvals, presentation and public speaking skills are essential.

Basic supervision—Project managers often come out of the technical ranks without having supervised anyone. Because one of the key roles of project management is bringing out the best in the project team, a course for first-line supervisors (as opposed to one in management theory) can help.

Project management technology—Project managers should thoroughly understand the firm's reports. PMs should also understand where the information comes from and how it is to be used in managing projects. They should be able to explain relevant reports to the client when necessary.

Personal time management—A/E project managers are easily sidetracked by constant interruption and crisis. It takes good time management skills to deal with the unexpected and still make progress toward a longer-range goal.
Clients want project managers who do what they say they are going to do. Make no mistake – in today's business environment, PMs who promise the world but fail to deliver will be exposed and your firm will suffer.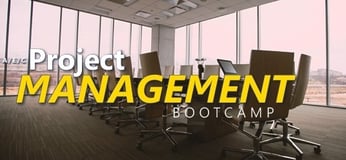 For more information on PM training, check out PSMJ's A/E/C Project Management Bootcamp, a program that will give your PMs the knowledge and tools that they need to perform better, more efficiently, and with greater attention to client service.
You also might be interested in these related posts:
4 Essential Project Management Tips for A/E Professionals
How to Overcome Impediments to Effective Project Management
Project Change Management – How Other Industries Do It
Today's Top Ten Project Management Trends
Transportation Project Management