There is a rumor out there in the industry; a rumor evidently supported by PSMJ surveys, in fact, that claims, "mid-sized firms have more trouble than large firms keeping their clients satisfied." A notion that I, as an optimistic curmudgeon, say is "Hooey."
OK, my conclusion is based on strictly empirical and totally anecdotal data and observations, but after 50 years in the architecture/engineering/construction (A/E/C) business, and being on both sides of the fence, I submit that my conclusion is sound. Here's why:
Clients rely on the sound counsel of a trusted advisor. It matters not whether the advisor is an attorney, an accountant, or an engineer. This means that the personal relationship between the client and the advisor transcends almost everything else.
Simply put, the client wants to like those in whom they have entrusted delivery of a project. They want to know that this individual will deliver quality work as scheduled. They want to be confident that when the inevitable changes occur that the trusted advisor will be there for them, take the change in stride, and deal with it. They want to believe that the relationship is as important to you as it is to them.
Small and mid-sized firms are much more flexible and amenable to that kind of relationship than the big national or international firms. The larger firms tend to be focused on the business aspects of our profession. Utilization, cash flow, chasing the next mega-project are all more important than the personal relationship between
principal or project manager and client.
While larger firms typically have access to tremendous resources and talent, that expertise may not be readily available nor may the firm have sufficient local knowledge to recommend cost-effective implementable alternatives.
Finally, local governments like to keep the money local. "The taxpayers of our community voted to tax themselves to build this highway; we are not going to send that revenue out of state." The local firms will keep things local.
As a former agency head and public works director, I worked with small- and medium-sized local firms as well as the big national firms. I can tell you that my trusted advisors were all from local firms.
As a former consultant with large national firms, I can tell you that the focus on utilization, overhead control, cash flow and the singular focus on the business, almost precluded becoming the most trusted advisor – we simply could not be there for our clients if there were not a compelling business reason to do something.
So……. if you are a medium-sized firm, you have flexibility and a nimbleness that the big guys simply don't. You are closer to the client, can demonstrate a long lasting commitment that the big firms typically will not. And, you have a community commitment that the big firms, headquartered in South Succotash, in a different state,
a thousand miles and two time zones away just will not. You can be the "Trusted Advisor" – go for it!! l

About the Author: Michael Ellegood, P.E., has over 40 years of project delivery experience both as a private consultant and as a county engineer/public works director. He is a Senior Consultant with PSMJ Resources and a
frequent contributor to PSMJ's Project Management journal. He can be reached at mellegood@psmj.com.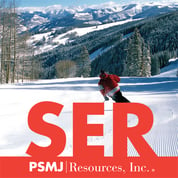 Looking for expert more expert advise for mid-size firms? PSMJ's Growing and Optimizing the Mid-Sized Firm is an A/E/C Senior Executive Retreat slated for February 2017 in Beaver Creek, CO. Lead by PSMJ CEO and Founder Frank Stasiowski, this gathering of senior-level A/E/C executives will focus on data, case studies, war stories...and great skiing! To ensure lots of interaction, we strictly cap attendance. Check out all the details, and don't miss out on this unique opportunity.
You also might be interested in these related blog posts:
Why Value Pricing is the Only Way to Survive
Classic Mistakes: 3 Steps To Lose a Client
Client Service Strategy to Guarantee Repeat Clients
What's So Special About Writing a Proposal?
How to Maximize Profits With Value Pricing