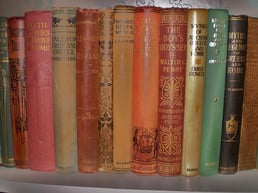 I enjoy returning to the classics of literature for timeless lessons in human nature.
Just as we can relearn some classic behaviors from literature, we can also be reminded of classic behaviors in our profession as architects or engineers.
And the lessons we learn from the classics can certainly apply to client relationships, and how we keep repeat clients. Here's a real life story that involved a peer (let's call him Joe) in another firm that reveals 3 steps to lose a client.
Classic error 1: Not checking work. Joe turned in a design for a regional wastewater treatment plant expansion project with cost estimates. When contractor bids came in, the bids were at least $1 million more than Joe's cost estimates. Bill, the client, looked amateurish to his county council. (Don't ever contribute to your client looking bad to his bosses!)

Classic error 2: Not providing the client what is expected. Step two of the process involved Bill asking Joe to do value engineering and redesign the expansion to meet the target budget. Bill is quite adept, and gave Joe a pretty good road map to produce what he (Bill) really wanted to see. Joe went off and redesigned the project with no client interaction, presenting the redesign as a fait accompli. The redesign had ignored Bill's specific requests.

Classic error 3: Go behind the client to secure payment when not deserved. Upon requesting the redesign, Bill had told Joe that he would not pay for the redesign effort. When the redesign was submitted, Joe went to the county's chief executive, pleading for payment for the extra effort. Not knowing that Bill had refused payment, the executive approved it. Bill was furious.
The relationship between Bill and Joe spanned ten years and numerous quality projects. However, when I had lunch with Bill recently, he indicated that his level of confidence and commitment to maintaining that relationship was at a historic low.
Just think of how much BD funding will be required to even begin to restore a client relationship between Bill and Joe's firm!
About the author: PSMJ Resources Founder and CEO Frank A. Stasiowski is a counselor and advisor to CEOs of many of the top design and construction firms in the United States, Canada, New Zealand, the UK, Switzerland, and Australia. He actively serves on the board of directors of major architectural and engineering firms throughout the world including one publicly-traded 4,000-person engineering firm. As an advisor to A/E/C firms worldwide, Frank helps his clients by challenging them to excel, and by assisting them to solve their problems and management issues.
You also might be interested in these blog posts by Frank A. Stasiowski:
A Client Service Strategy to Guarantee Repeat Clients

What's So Special About Writing a Proposal?

Why Value Pricing is the Only Way to Survive

How to Maximize Profits With Value Pricing
For more information on how to keep clients satisfied and win new work, check out PSMJ's recent A/E Business Development Study.