Every architecture and engineering firm talks about retaining clients through exceptional service, but good service is presumed, and few firms truly stand out as "exceptional."
Here is PSMJ's suggested client service strategy to guarantee repeat clients.
Make clients feel special at the beginning. Go out of your way to do "little things" that make a huge difference. Examples: Fast response to calls, hand delivering of proposals, reports, documents, online access to project files, home phone numbers of your key personnel, and invitations to your company events. Recognize that everyone tries to do all of this and more. Then find ways to be more personable than your competitors. To do this, have quarterly meetings just on this topic, and improve as you go.

Communicate even when not necessary. This item is often overlooked, but clients love it. Set up regular weekly meetings/con calls with clients, and execute one every week whether or not you have anything to report. Conditioning clients to expect a weekly meeting also helps to prevent them from interrupting you when you haven't called in a while. Clients love it.

Surprise clients. Do this positively, of course, but go out of your way to surprise a client with good news or with something more than they expected. To find new ways to do this, look back on similar past projects, and document things that "wowed" the client. Then make them part of your SOP.

Provide a high level of commitment. Exceptional client service is a cultural trait of your firm. Accordingly, it must be championed from the top by a partner or principal that puts continual energy into inventing new systems, new techniques, and new processes for client service. That partner must also champion making client service a part of the reward/performance review system. Without a recognition system to acknowledge acts of superior service, why should the average employee think or act toward continuous improvement?

Build a family of clients. Loyalty is grown by giving each client a sense that they individually belong to a special circle of people. Invent a process that encourages your clients to meet each other to network and share their own stories about your exceptional firm. Beyond the traditional things like golf outings or picnics, why not invent your own "client university" providing continuing educational opportunities for clients and their own staff or families? "Wowing" clients takes thought and energy and is a continuous job.

Ask for testimonials. Instead of just waiting for clients to write nice letters, ask specifically for letters that address unusually positive client service memories. If you don't get any, you've got average or below average service. Let your whole staff know that you'll be asking, and everyone will start inventing ways to get clients to write about them. Testimonial letters are great barometers of just how good (or bad) your customer service really is.

Never stop! Read ferociously about other companies. Watch your competitors. Observe clients. Observe sub-consultants. Create. Break. Invent. Test. Challenge. But never stop reinventing client service at every stage of your work. Clients will show their appreciation by coming back again and again, and by breaking their own selection criteria rules to guarantee that you are the firm of first choice.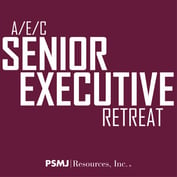 About the Author: In addition to being the Founder and CEO of PSMJ, Frank Stasiowski is a frequent speaker at numerous prestigious A/E/C industry events. He will be leading PSMJ's Growing and Optimizing the Mid-Sized Firm, an A/E/C Senior Executive Retreat slated for February 2018 in Beaver Creek, CO.
This immersive gathering of senior-level A/E/C firm leaders is a unique invitation to chart out – in a collaborative and confidential setting – action-oriented solutions based on data and experience (not on opinions or wild guesses). This isn't a seminar or a presentation where instructors explicitly teach you new concepts. Nor is it a workshop where you apply new skills or tactics. We call it a retreat because that is exactly what it is. Think open (but facilitated) discussion. Think stepping away from the day-to-day grind to spend less time working IN your business and more time working ON your business. Because we know that the next great idea doesn't even have to come to light in a conference room, you will also have the opportunity to spend time each day with your facilitators and other retreat participants enjoying some of the best skiing that Colorado has to offer!
You also might be interested in these blog posts by Frank A. Stasiowski:
Why Value Pricing is the Only Way to Survive
Classic Mistakes: 3 Steps To Lose a Client
What's So Special About Writing a Proposal?
How to Maximize Profits With Value Pricing