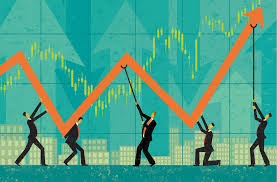 When looking at compensation totals from 126 architecture and engineering firms that participated in both the 2017 and the 2018 A/E Management Compensation Survey Report, we find that base salaries for most positions increased slightly or held relatively steady this year.
In fact, the median increase was just 2.4 percent across all 18 positions (See table below). This may indicate that salaries—at least for managers—could be leveling off.
We also find the following: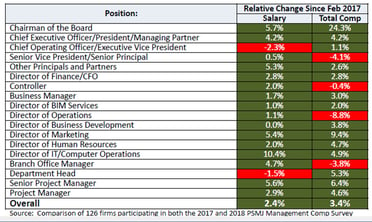 • Most management positions experienced similar increases in total direct compensation—a median change of 3.4 percent across all 18 positions.
• The two positions that experienced a reduction in salary (COO and Department Head), saw an increase in total compensation.
• Less than a handful of positions experienced a reduction in their total compensation—the largest hit taken by Directors of Operations (-8.8 percent). This same group of professionals were among those who experienced the largest reduction last year as well (-13.5 percent).
• Chairman of the Board saw the largest spike in pay with a total compensation increase of 24.3 percent over last year. Last year, these leaders were among the those whose percentage change increased the most at 11.5 percent.
• The opposite was true for four positions that experienced a decline in total compensation (Senior VP, Controller, Director of Operations, and Branch Office Manager). Despite increases in salaries, all four experienced less total compensation.
The overall position numbers on the chart reflects the improved financial performance of those in the survey. PSMJ's analysis shows that management salaries are based chiefly on three factors, being: 1) Size of firm; 2) individual performance; and 3) position on the organizational chart.
Along with the 2018 A/E Management Compensation Survey Report, 36th Edition, PSMJ has released the 2018 A/E Staff Compensation Survey Report, 5th Edition. Both survey reports present the participation of 270 architecture and engineering firms.
You also might be interested in these related PSMJ blog posts:
Is Your Benchmarking Giving You the Right Answer?
Need to Know: COE Firms Benchmark for Financial Growth