Last week, we published a blog post Three Pieces of Advice for Evaluating Branch Office Successwhich presented some guidelines on how to keep a level head when opening a new office. We also asked for comments on the following question: What lessons has your AEC firm learned from opening a branch office?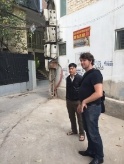 It is not often that we get replies from the branch-office frontlines. So when Matt Young, Principal of GroupGSA in Ho Chi Minh City, Vietnam, answered our question in full detail, we couldn't keep it to ourselves and had to share it here.
Following is Matt's very detailed and insightful response:
Thanks for asking the question! Obviously, I have been thinking a lot about this. Depends if you want advice, what lessons are learned, or how do you evaluate the success. So how about all three?
ADVICE:
Sell the brand not the man. If you are a branch office you are an offshoot of a parent company or office – basically you are an extension of an existing brand. That brand has value – that's why you teamed up with them in the first place – use it!!!. There is nothing wrong with adding your own flavor. In fact, I would argue that it is impossible to do otherwise BUT as a branch office it is likely that you are smaller; and so trying to sell a four-man business into large projects is nigh on impossible. Being a representative for the main business enhances your ability to sell, gives the potential client confidence in your track record, and expands your market.
Be the best of both worlds: You are probably smaller than the main office(s)–that's an advantage–you are adaptable! Do things your way – sell the big picture but deliver personally. Suddenly you have real relationships with decision makers (both business and personal) that appreciate your personal touch on the work you are delivering. That personal touch is sometimes not possible in a larger office or, at the minimum, diluted simply by the size of the organization.
You have all the advantages of a small studio, the personal touch, the intense involvement, the diverse work typologies within a small team (who learn at a great rate as a result). On top of that you have all the support of the large office (and if you don't then that MUST be changed by the greater team – NO EXCUSES).
How good is that? You are a small design studio and a corporate powerhouse – all in one. That's a dream for many – Embrace it!
LESSONS LEARNED:
You're not alone. You are part of a bigger team (remember you are a branch office of something already developed) – learn from your team. They are probably as smart or smarter than you, and that's before you even take into account their collective experience. I don't care how smart you are or how many projects, all nighters and research missions you have done – they have things they can help you with; SO JUST ASK!!!
Almost everybody loves being asked their advice. It is personal validation for them. It also builds a relationship between you and them. Support networks are what will keep you going. As a branch office you are probably slated for exponential growth. You can't do that on your own, and if you do you will be exhausted – people want to help. You will learn more, be better at your job and deliver better results and product; and maybe, just maybe even get some more sleep.
Think global – Deliver local. Yes, it is a cliché and it harks back to "you're not alone," but it's so important. You must always think of the bigger picture for the whole firm – not just your branch office. You are part of that bigger picture – you want to be considered when the full firm makes decisions, so it just makes sense you consider them when you make a decision.
Even if that is "let's do some crappy jobs this month just to break even – that way we don't adversely affect the larger firms cash flow/profitability" or "let's help out on that job from another branch office for free because the time will come when we don't have budget but we need help" or "which office should we invite to this as it will build their brand whilst assisting us?"
It's a matter of being a team player within the firm and it's not just altruistic. When you start delivering locally to your "home clients" you will be able to confidently leverage the whole firm to deliver the very best to your own clients – you will know what builds profile for the firm and what the client needs to hear.
By the way: Your home clients are number one! – because the rest of the practice couldn't get to them without you, so understand that each one is an asset to you and to the practice as a whole. One day they may even move across markets and give another branch work. Well played! You just became an asset in two markets and grew both your practice and assisted another. Delivering locally and assisting globally. Job well done!
EVALUATION:
What have you done for the parent office/company, in short, your investors?
You don't have to achieve all of the points below. Any on their own make you of value as a branch office.
Have you returned a profit?

Have you reduced their costs? ( increased their profit?)

Have you introduced new clients from your market?

Referrals

Can some clients them transfer to other offices bringing new jobs to those offices?

Collaboration

Do some of the other offices work on your projects (income stream for them despite being work for your office)

Have you contributed new skills?

Do you have specific skills in your staff that the other offices can leverage?

Have you opened new markets?

Do you make the entire business more sustainable?
What have you done for your office?
Is it a great place to work?

Are you developing your staff to become better practitioners?

Are you attracting quality staff?

Are you progressing and getting better at your outputs?

Are you growing (if that is what you want to do)?

Are you sustainable as a business unit on your own?

Does your office feel important as a part of the whole?

Do you staff feel as part of the bigger picture
Have you given opportunities for growth by leveraging the larger firm to deliver benefits to staff and clients in the local firm that other offices of the same size cannot match because they don't have that support?
Have you engaged in staff swapping and developing relationships between staff in different locations (not just senior staff – should be across all levels)

Does your office have a vision ?

Do our staff and the parent firm engage with and share that vision?
That's it for the moment. I think that was a great catharsis for me and has crystallized a lot of what I have been aiming at and trying to achieve in the last 18 months. In some ways the above is my unwritten (until now) personal KPI's for GSA Vietnam. We aren't perfect on any of it, but I would like to think we have made strides in the right direction in most if not all of the points above.
I like to think it's a good formula and we are starting to prove the outcomes. I still need to show it is sustainable and that takes constant vigilance (not included in the above because that is just business and nothing to do with being a branch).
About Matt Young: For the past 12 years, Matt has acted in management role for firms ranging from a leading boutique architectural practice to running development companies and international multi-disciplinary offices. As Principal and General Director and Prinicpal of GroupGSA's Vietnam office, he is responsible for oversight of all projects in South East Asia, developing a dedicated South East Asia-based architectural team and building new client bases and income streams.
PSMJ would like to thank Matt and GroupGSA for sharing such insightful advice, lessons learned, and thoughts on how to evaluate branch office success.
Now it's your turn: What lessons has your firm learned from opening a branch office?
Other Branch Office related blog posts:
Data Dive: Best Practices in Branch Office Management
Letter from the Field: Growing a Branch Office
Might as Well Jump: Tips for Branch Office Success
Six Battle-Tested Strategies to Establishing a Branch Office
Three Pieces of Advice for Evaluating Branch Office Success