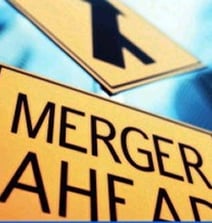 Here's a recap of some of the latest A/E/C mergers and acquisitions that have been announced in recent weeks.
August 1, 2019 – Engineering/architecture companies Short Elliott Hendrickson (St. Paul, MN) and Russell Planning & Engineering (Durango, CO) merged companies and will operate as Short Elliott Hendrickson Inc. "We recognize the value both companies offer to employees and clients," said SEH CEO/President David Ott. "Russell Planning & Engineering is a well-known and well-respected company. As one company, we look forward to bringing additional services to our clients."
PSMJ initiated this transaction and provided advisory services for Russell Planning & Engineering.
August 8, 2019 – TLC Engineering Solutions (Orlando, FL) acquired life safety and fire protection engineering firm LaSalle Engineering (Philadelphia, PA). The acquisition allows TLC to deepen its technical skills in computational fluid dynamics modeling and expand its support to architects and building owners.
August 3, 2019 – Fishbeck, Thompson, Carr & Huber (Grand Rapids, MI) acquired Northwest Consultants (Canton, MI). "This acquisition is a fantastic opportunity for both Fishbeck and NCI, and I am excited to welcome a new group of accomplished experts to the Fishbeck team" said Fishbeck President and Principal Jeff Schumaker.
July 31, 2019 – Ryan Soames Engineering (Point Pleasant, NJ) acquired Adaptive Engineering Professionals (West Orange, NJ), a mechanical, electrical and plumbing consulting firm. Ryan Soames specializes in MEP engineering and energy conservation with a specific focus on building design, integrated building services and energy efficient engineering.
July 30, 2019 – Ratio Architects (Indianapolis, IN) merged with Humphries Poli Architects (Denver, CO). Ratio plans to capitalize on Humphries Poli's expertise in educational projects; the firm has been involved in more than 100 library and educational design projects.
July 29, 2019 – BLRB Architects (Tacoma, WA) acquired Ascent Architecture and Interiors (Bend, OR). The move expands existing capabilities, resources and market reach. All Ascent employees will become employees of BLRB Architects and, Ascent owner, Seth Anderson, will serve as principal of the combined Bend office.
July 11, 2019 – Consulting engineering firm CHA Consulting (Albany, NY) acquired JBS Project Management (New York, NY), a 30-person project and construction management firm. "JBS brings us experienced and talented PM/CM resources that support our strategic objectives for expansion of our service lines and presence in Metro New York," said Michael Carroll, CHA's President & CEO.
July 11, 2019 – TRC (Lowell, MA), a provider of end-to-end engineering, consulting and construction management solutions, acquired the Testing and Commissioning Field Services Division of EC Source (Houston, TX), an engineering, procurement and construction provider to the transmission and substation electrical systems in North America.
July 10, 2019 – National multidisciplinary engineering firm Greenman-Pedersen acquired 24-person civil engineering and surveying firm MHF Design Consultants (Salem, NH).
July 9, 2019 – Cardinal Survey and Design (Williamsburg, VA) merged with full-service engineering and land surveying company Berkley-Howell & Associates (Forest, VA). "The merger of Berkley-Howell & Associates is part of Cardinal Survey's strategic growth initiative and will enable us to expand our portfolio of services into other thriving areas of Virginia," said George Cunha, Cardinal Survey president.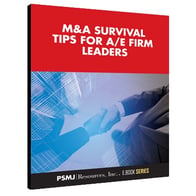 Merger & Acquisition (M&A) activity in the architecture and engineering space is certainly on the upswing and well on its way to reaching pre-recession levels. But, how ready are you for taking on the task of buying or selling an A/E firm? If you are looking for tips to help your firm navigate through the M&A process, check out PSMJ's complimentary ebook M&A Survival Tips for A/E Firm Leaders.
Other M&A Related Posts:
Getting Ready to Sell? Think Like a Buyer!
What You Must Know About Private Equity
Growing Revenue = Growing Valuation? Be Careful What You Wish For!