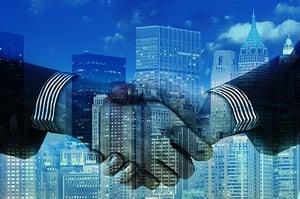 Anyone who has seen the 1993 film, Barbarians at the Gate, probably has an indelibly etched picture in their mind about mergers & acquisitions and the people who are engaged in the process.
Needless to say, the view of the greedy corporate raiders was not particularly flattering, but it did make for interesting character development and a high-drama story.
In the movie, the action centers on the marauders trying to beat each other to steal the treasure, while they conjure ever-more clever nefarious plots to borrow a big pile of money, tear the company apart, and use its own revenues to pay off the debt.
For most companies, M&A is not only NOT a nefarious adventure to plunder, but it's not even a regular part of their business activities. For those architecture and engineering firms that do use M&A as a business activity, it is a tool used to accomplish a specific strategic objective. In most cases, the objective is growth-focused and intended to help the company enter a market that it cannot cost-effectively get into with an organic-growth strategy.
Unlike most other growth strategies, the advantage of an M&A approach over organic growth is that it can get you immediate and simultaneous entrée on a geographic dimension, a practice area dimension, and a client type dimension. And it gets you kickstarted on this strategic growth plan with built-in revenues. Anyone that has built a business from scratch knows that it is easier to build on a business with cash-flow than it is to get that initial cash-flow going in the first place.
But it only makes sense if you have a well thought out strategy for growth – how and where you want the company to grow, and what you'd like the company to be. And here is the mundane reality. M&A is mostly a lot of work – reading balance sheets/income statements/charts of accounts, doing financial analysis, developing organizational plans, and writing and reviewing legal documents. This is fine if your chosen career path is accountant, attorney or business manager, but not so great if you are a rapacious barbarian.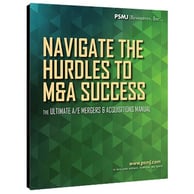 You can learn more identifying and leveraging your A/E firm's value drivers in PSMJ's "just-released" Navigate the Hurdles to M&A Success: The Ultimate A/E Mergers & Acquisitions Manual . It provides hundreds of pages of insights and advice, backed up by innovative thinking that only the successful PSMJ advisers can make. PLUS, you get dozens of tables, charts, worksheets, and templates to get on track for success!