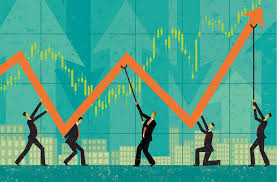 In PSMJ's report, A/E Mergers & Acquisitions Study: How Today's A/E Firms are Successfully Growing through Acquisition, we present the results of a study that PSMJ conducted regarding merger and acquisition (M&A) practices in the architecture and engineering (A/E) industry. With a total of 32 participants, this study covers a variety of elements related to high-level M&A strategy as well as the nuts and bolts of putting together a successful transaction.
To provide the most accurate and representative data, our research was conducted on the "buy side" of the transaction. That is, our participants are all on the acquiring side of the transaction. More specifically, all participants have completed at least one acquisition in the past five years. Additionally, all participants are strategic (as opposed to financial) acquirers. That means that they are all operating companies in the A/E space or in a related industry. None are solely financial investors.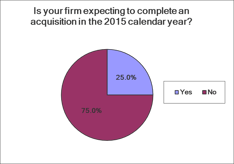 Most participants expect to be on the M&A sidelines in 2015. When asked about their acquisition efforts or plans for 2015, three-quarters indicated that they are sitting out 2015 when it comes to completing more acquisitions.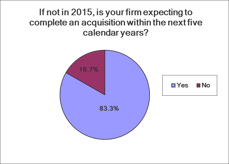 However, they won't be out of the game for long. For those who do not plan to complete an acquisition in 2015, 83% expect to have one or more additional acquisitions completed in the next five years.
Now that we know the participants' acquisition plans, we dig into the "why" and "how" of their high-level M&A strategy.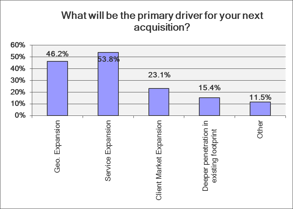 Acquirers are largely focused on adding new services. In fact, 53.8% of respondents indicate that service expansion is a top driver of their M&A efforts. This comes as a change from when we last asked this question in our 2011 study.
At that time, nearly two-thirds of the participants (61.5%) were focused on geographic expansion. Service expansion came in second place at 46.2%. As more and more clients seek out "one-stop shops," it comes as no surprise that more A/E firms are looking to shore up gaps in their service mix.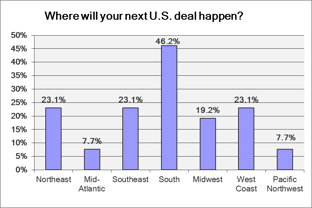 Go South! Far and away, the South is the region where most acquirers are headed for their next deal. Shifting population demographics and other economic factors are putting the South head and shoulders above any other region in the U.S. With this, expect elevated valuation multiples and a shorter supply of quality sellers in this region.
For some acquirers, 2015 is a chance to focus on integration of previous acquisitions. For others, it is a chance to get more clarity on the economic future, and where M&A can give them the best bang for their buck.
This is a clear indication, however. that several different long-term forces are coming together to ensure that growth through acquisition is a strategy in the A/E space that is here to stay.
About the author: As a consultant with PSMJ, Greg Hart advises clients primarily in the areas of mergers & acquisitions, ownership succession planning, and business valuation. He has personally worked with dozens of architecture, engineering, and environmental consulting firms on these matters. Additionally, Greg frequently contributes to a range of PSMJ and industry publications and speaks to various audiences on topics such as M&A strategy and succession planning.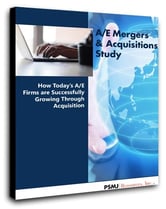 For more information on merger and acquisition trends in the A/E industry, download a complimentary copy of the report, A/E Mergers & Acquisitions Study: How Today's A/E Firms are Successfully Growing through Acquisition. Beyond just providing data and research, we strive to provide tangible advice around what to do with this information. Throughout the study, you will find reference to our analysis and perspective on what the research is telling us. Additionally, we wrap up with seven specific recommendations based on how the most successful firms are able to sustainably grow through acquisition.