Why Are Mergers or Acquisitions A Risky Bet?
Very few of them turn into total disasters in the A/E space. But, by the same token, there are also only a chosen few that are really home runs. To be sure, many of them create value over the long run and allow the combined organization to achieve results that neither firm would have achieved alone.
But, why do some look great on paper and then just fail to deliver the expected results? The geographic or service expansion makes perfect sense. It seems like such a great fit…before the transaction is closed. But, unfortunately, few firm leaders really think long and hard about post-transaction integration. How will this thing really play out after the ink is dry?
Based on PSMJ's experience over more than four decades in the A/E industry, here are three key questions that every acquirer should be able to answer. If you don't have clear answers to these questions, then the signs of trouble may be lurking.
1. Do you have the pure bandwidth to handle the integration? Especially if this is your first acquisition, start small. Putting aside the direct cost, acquiring a firm that is 30% of your size is a major integration effort. In fact, anything more than 20% will be a lot of work to effectively integrate. Biting off more than you can chew is a quick and easy way to get into trouble.
2. Now, looking at the cost issue, will you be so stretched financially that resources for integration will need to be very limited? Not only does integration take time…it costs money! In the people-based A/E business, the biggest cost will be lost chargeability due to the distraction of bringing the two firms together. Make sure you factor what we call the "distraction dip" into forward-looking projections.
3. Is this acquisition the best means to achieving your growth objectives? Just stop and step back for a minute to think about what this acquisition is really achieving for us. Is it a more attractive option than organic growth or strategic hires? Does the expected return justify the investment? Is the timing right?
If the answer to any of these questions is 'No', then you've got some thinking to do. What will it take to convert these to a 'Yes'? And, don't forget that just about any acquisition will require that you get some of your firm's DNA into the acquired firm. That often means that one or more of your key folks will be physically located in the acquired firm for some period of time (it could be months or it could be years).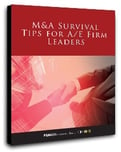 Merger & Acquisition (M&A) activity in the architecture and engineering space is certainly on the upswing and well on its way to reaching pre-recession levels. But, how ready are you for taking on the task of buying or selling an A/E firm? How do you make sure you aren't overpaying or leaving money on the table? How do you avoid a million-dollar mistake? Looking for more insider information on M&A in the A/E space, check out PSMJ's complimentary ebook M&A Survival Tips for A/E Firm Leaders.