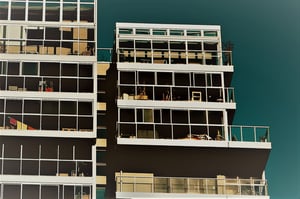 Branch offices, by their nature, always feel as if they are getting less than ideal support from the main office of your architecture or engineering firm.
To ensure that your branches are truly a part of the "whole company," invest in their value, and keep them fully "online" in your organization. In short, treat them right.
Here are a few ideas to keep in mind to make your branch office a success:
Once you open a branch, give it your best commitment. There is no such thing as benign neglect of a branch office— either you support the branch, or you don't. To get the best performance from your branch, you need to put the firm's money and energy on the line. Invest your entrepreneurial leadership in bringing to the office an aggressive, enthusiastic strategy.

Communicate constantly. Phone, scan, e-mail, not just about projects or management issues, but also about life. The branches are part of the family. Let them know and feel they are part of the company culture.

The CEO should visit each branch at least monthly. Only the boss can communicate the importance of a branch to its staff and management. By spending time with employees, you'll convey that you care and that they are an important part of the firm.

Challenge the entrepreneurial spirit of your branches. Create appropriate incentives based on performance that exceed expectations.

Avoid developing a "we-they" syndrome. Hold frequent events that bring together the staffs of the home and branch offices. The more they get to know each other, the more camaraderie and team spirit will develop. You can even start a program to "exchange" staff for a week at a time.
PSMJ's A/E/C Branch Office Performance Senior Executive Roundtable is your chance to learn from the mistakes of others, get answers to you tough questions, and put the headache of sub-optimal branch office performance behind you! And, this is about way more than just closing branch offices. You learn the right ways to open and operate a branch office so that the thorny issue of closing the office never happens!
Other Branch Office related blog posts:

Three Pieces of Advice for Evaluating Branch Office Success

Letter from the Field: Growing a Branch Office

Might as Well Jump: Tips for Branch Office Success

Six Battle-Tested Strategies to Establishing a Branch Office