Recognizing the strategic importance of "plan" as a verb rather than a noun, we wanted to better understand some of the latest strategies and tactics that architecture and engineering firms are using to get results from their strategic planning. We wanted to find what works and what doesn't. The results are presented in PSMJ's recently released A/E/C Strategic Planning Executive Survey Report.
To conduct this research, PSMJ surveyed 157 A/E firm leaders. This is fresh data with more than half of the survey respondents having conducting a strategic planning exercise within the past year and nearly 4 out of 5 have done it within the past three years.

When was the last time your firm conducted
a strategic planning exercise?
To better understand the nature and dynamics of our study participants, we also asked them who facilitated their last strategic planning process. The results where approximately an even split between using outside and inside facilitators.

For your firm's most recent strategic planning exercise, did you use an outside (e.g. hired) or inside (e.g. company employee) facilitator?
We also wanted to better understand how satisfied firm leaders are with their strategic planning efforts. The results showed that nearly two-thirds of the survey respondents agree or strongly agree with the statement that their strategic planning exercise achieved the desired results.

Do you agree or disagree with the following statement: Our firm's most recent strategic planning exercise
achieved the desired results.
With the basics of the survey data set understood, we then asked respondents open-ended questions to solicit candid and actionable insight on how the process may have uncovered a great strategy or idea that moved the needle on their firm's growth and how meaningful and effective the process itself was as they went through it. More than a third of study respondents (37%) point to improved accountability and clarity within the firm as being one of the biggest drivers of success from their strategic planning efforts.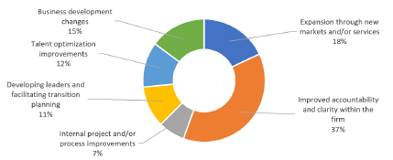 What strategic decision and action resulting from your firm's most recent strategic planning exercise had the biggest impact on your firm's growth and success?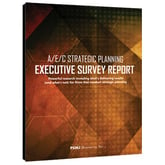 Strategic planning, done right, can drive your firm to new levels of profitability and productivity. Done wrong, it can become an expensive exercise in frustration. You'll see both sides, and learn how to make sure your next plan execution is a resounding success, with PSMJ's new A/E/C Strategic Planning Executive Survey Report. This plain-English briefing not only provides hard data but also candid comments drawn from a February 2019 survey of 157 principals and executives at leading architecture and engineering firms.
Looking for more tips, check out Successful Strategic Planning For A/E Firm Leaders.
In this free e-book, you'll find specific suggestions to help your architecture or engineering firm think of "planning" as something you do all the time, tending to it at regular intervals—as a process that never ends and an ongoing part of running a successful business.
Other strategic planning related blog posts:
8 Tips For Making Your Strategic Planning Meeting A Success

Get Strategic With These Planning Questions

Establishing Your Strategic Plan

Where Does M&A Sit in A/E Firm Strategic Planning?