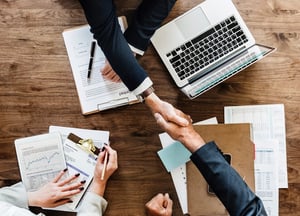 It's very easy to let your blog get swept under the rug in respect to everyday business activities. With all of your responsibilities as a marketer for an architecture or engineering firm, why would you take the time out of your busy day to put together free content?
While blog posts are technically free content for the viewers, statistics show that companies who blog generate at least 67% more leads per month than companies who do not blog (Source: Impact). Think about that for a second. 67% more leads EACH MONTH. So while you may think you're wasting your time giving away free content, the statistics beg to differ.

PSMJ has been producing content for a while, but we continue to see an increase in website traffic generated from our blog. Here we share the top five tips we have learned on how to be a better blogger:
Have a Set Schedule. I can't stress this enough. Your blog is nothing without a plan behind it. Sporadic posting and sharing simply doesn't keep your content relevant. Whether you have a content management system such as HubSpot to help you out or you have to plan your posts out in your calendar, it is worth the effort.

But how do you decide what your schedule should look like? To answer this, take a look back at your past blog posts. Which ones had the most views? What days did you see a spike in views? Was there a particular time people seemed more willing to read a blog post?

Experiment with Times/Titles. Don't be afraid to try anything. You might be surprised what works. I noticed people are willing to read posts in the early afternoon on Sundays. Maybe this is in response to the impending start to the work week. During the week, early morning, just before lunch and just after lunch seem to work best for us. It does vary between companies, so if you're afraid to experiment on your own, you'll never find your perfect time(s).

When it comes to titles, think of what would grab your attention. Which title catches your eye, "Top Five" or "Top 5"? Use different combinations of keywords and/or numbers to improve SEO while also making your post something people want click on.

Guest Blog Posts. This strategy has been invaluable for PSMJ's recent spike in blog views. I recently reached out to different experts in the A/E industry (whether they have their own blog or not) and asked if they would be willing to write a guest post. Most of the people I contacted were thrilled with the idea and quickly sent us a first draft.

Guest posts are great for both parties involved. I was able to get content to add to the PSMJ blog and the writer was able to get exposure. And, invariably, guest posts were viewed by more people than PSMJ created content. When I shared the post, the writer would share it in addition. Sometimes the writer's company would share it on his/her blog and within his/her company as well. This allowed the post to be viewed by more people than it would have without the shares.

Recycle Content. When I share our blog on Twitter, I typically tweet a link to each blog at least six times. This isn't to throw our content at people, but to give people who missed the first tweet an opportunity to read our content (some people are busy, time zone differences, etc.).

At times when you are struggling to find content to post, don't be afraid to go back to an old post and put a new twist on it or even combine two similar past posts. This will allow you to post a completely new article, while only taking a fraction of the time to produce it.

Recap. Provide your readers with a short recap of your blog posts over the past week, month or year. Again, this is something unique to your blogging experience, and is all about finding what works for you.

This is a great way to get more eyes on your articles you have already published. I recently started producing articles containing the top three most viewed posts from the previous month. Some people will be even more willing to open this link because the most popular (and typically the most useful) information is all in one place.
There is no perfect formula for a successful blog, but these tips can help you increase your views, leading to more traffic to your website. Even if you are currently blogging without finding much success, don't give up! You never know what type of success could be right around the corner.
Related Blog Posts:
Is LinkedIn an Effective Tool for Marketing in the A/E Industry?

Marketing: Your Best Strategic Weapon
AEC Social Media: Myth vs. Reality
Amplify Your Content Using Social Sharing
About the Author: Margot Suydam is PSMJ's Content Development Manager. If you are interested in writing a guest post feel free to contact her at msuydam@psmj.com. Thank you for reading!