Design tool lets novices do in minutes what would take experts in computer-aided design hours.
While 3-D printing is becoming more common, the ability to create designs for it is not. Any but the simplest designs require expertise with computer-aided design (CAD) applications, and even for the experts, the design process is immensely time consuming.
Researchers at MIT and the Interdisciplinary Center Herzliya in Israel aim to change that, according to a recent MIT news release, with a new system that automatically turns CAD files into visual models that users can modify in real time, simply by moving virtual sliders on a Web page. Once the design meets the user's specifications, he or she hits the print button to send it to a 3-D printer.
"We envision a world where everything you buy can potentially be customized, and technologies such as 3-D printing promise that that might be cost-effective," says Masha Shugrina, an MIT graduate student in computer science and engineering and one of the new system's designers. "So the question we set out to answer was, 'How do you actually allow people to modify digital designs in a way that keeps them functional?'"
For a CAD user, modifying a design means changing numerical values in input fields and then waiting for as much as a minute while the program recalculates the geometry of the associated object. Shugrina and her collaborators—her thesis advisor, Wojciech Matusik, an associate professor of electrical engineering and computer science at MIT, and Ariel Shamir of IDC Herzliya—presented their new system, dubbed "Fab Forms,"at the Association for Computing Machinery's Siggraph conference, in August 2015.
Fab Forms begins with a design created by a seasoned CAD user. It then sweeps through a wide range of values for the design's parameters — the numbers that a CAD user would typically change by hand — calculating the resulting geometries and storing them in a database.
Finally, the system generates a user interface, a Web page that can be opened in an ordinary browser. The interface consists of a central window, which displays a 3-D model of an object, and a group of sliders, which vary the parameters of the object's design. The system automatically weeds out all the parameter values that lead to unprintable or unstable designs, so the sliders are restricted to valid designs. Moving one of the sliders sweeps through visual depictions of the associated geometries, presenting in real time what would take hours to calculate with a CAD program.
"Autodesk has simplified versions of this project," says Ryan Schmidt, a senior principal research scientist and head of the Design and Fabrication Group at Autodesk Research, the research arm of the leading manufacturer of CAD software. "What I thought was super-exciting about this work is that it can prevent you from designing something that isn't going to print or that isn't going to be strong enough once you've printed it."
Other PSMJ blog posts on technology include:
Where 3D Printing Plays in the A/E/C Arena
5 Common Technology Mistakes Made by A/E Firm Leaders
The New Technology that will Transform the A/E Industry
The Only 3 Things Your Website Needs

5 Tools Everyone in Project Management Should Be Using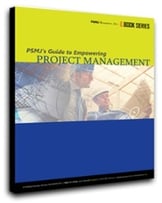 Are you an empowered project manager? PSMJ's complimentary e-book Guide to Empowering Project Management is designed to synthesize some of our most insightful and action-oriented advice for project managers. From entrepreneurship and leadership to project scheduling and getting out of trouble, this easy-to-follow guide will give you the jolt of helpful instruction (and encouragement!) you need to fire up your engines and take on that next assignment with confidence.