A Journal: Contract Administration Pitfalls and Solutions for Architect-Engineering Projects
Publisher: Author House
Date Published: 2015
Number of Pages: 42
Availability: In-Stock
Format: Soft Cover
Price: $12.95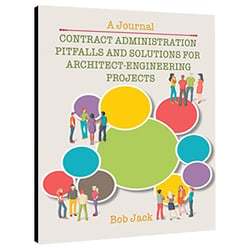 Successfully executed contracts ensure overall success and continuity of the firm. The management of these contracts, therefore, is very important and helps determine the degree of success or failure of the enterprise. Yet most firms to not have a dedicated person assigned to the business process of contract administration.
Today, more than ever, these contracts must be administered for success, within budget and within schedule, and meet the changing dynamics of the projects' requirements over time.
Bob Jack describes those tasks that must be executed to ensure that contract administration is a successful outcome, and that all the players on the company team execute their individual tasks professionally, repetitiously, and successfully.
To hear Bob Jack speak more on the topic of contract administration, please tune into his recent appearance on the PSMJ Podcast below.