Action strategies you take away from this Roundtable will boost the financial and operating performance of your multi-office A/E/C firm.
Branch office under-performance is costing your firm real money and lost profits. Stop the bleeding and start driving branch office excellence.

Nearly HALF of all A/E/C branch office closures are tied to either not enough work coming in or poor internal communication and coordination. Yet both of these problems, and many others that keep offices under-performing, are completely avoidable.
A/E/C Branch Office Performance Senior Executive Roundtable is where you learn how to avoid others' mistakes, get answers to the toughest questions, and put sub-par branch office performance behind you. More than just preventing closures, you learn the right ways to open and operate a branch office and realize the healthy returns you projected at the outset.

This is no one-way lecture. Come prepared to discuss your challenges, share your experiences, and interact with other A/E/C leaders in a candid, expert-facilitated intimate environment.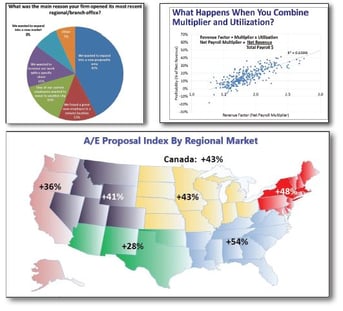 Access t0 PSMJ Research Data:
Far from abstract theory, this event combines PSMJ's hard

data on current market sector conditions, utilization rates, and more with candid peer

conversation to

give you actionable intelligence. So you're armed with everything you need to both open a branch office successfully and improve the performance of an existing one.
Learn everything you need to:
Integrate cultures, systems, and values when offering multiple services to varied markets in far-flung location

Ensure maximum inter-office resource utilization in project execution

Make smarter decisions, and avoid the mistakes that doom 47% of A/E/C branch office to failure
SAVE $500 with our early-bird discount registration rate!
Save $500 on your registration by signing up for the program at least 30 days prior to the Roundtable date. Please note that registration is capped for this program to ensure the most interactive experience for participants. As such, availability is on a first-come, first-served basis until we have reached capacity.
Bring this program to your firm
Our interactive Roundtable format – with smaller groups and more open discussion – is designed to cover the issues that matter most to you. But, if you are looking for an experienced more tailored to you and your organization where your entire leadership team can get on the same page, check out our in-house training program options here.
VALUE-ADDED BONUSES:
ONE-ON-ONE SESSION
To maximize the application of what you learn, you're entitled to a complimentary 45-minute confidential discussion with your Roundtable facilitator. You can exercise this benefit up to a year after the event!

NETWORKING RECEPTION
Meet other A/E/C principals to swap ideas and experiences when you join attendees and facilitators for beverages, hors d'oeuvres, and conversation.

DIGITAL TOOLBOX
You get access to PSMJ's cloud-based Branch Office Optimization Digital Toolbox, loaded with apps, tools, templates, checklists, and more to boost your success (a $497 value). You get:
• Cash Flow Model for New Employees
• Firm-Wide Implementation Plan
• Attendee Implementation Plan
• Harrison Assessment Example
• Sample Position Descriptions
• AND MORE!
CONTINUING EDUCATION CREDITS


This Roundtable is AIA CES-registered to provide this content and earns you up to 13 LU Hours, CEUs, or PDHs. Not all state and licensing boards accept these programs for learning units. PSMJ is a registered provider with the Florida Board of Professional Engineers (provider #0003546). PSMJ is a registered provider with the Florida Board of Landscape Architects (provider #0002844). For more information, please contact our education team at (617) 965-0055 or

education@psmj.com.
BRING YOUR TEAM!



Loaded with so many actionable insights, you'll want ALL your key contributors to attend, including Managing Partners, CEOs, Principals, Branch Office Managers, Senior Project Managers, COOs, and future leaders who need to learn branch office management strategies. Save up to $700 each with special team discounts!

"One of the best parts of having more than one of us from the firm attend was how much easier it made implementing all we learned. We were able to compare notes, allocate tasks, and roll out new organizational metrics so much faster. There's so much info, we're glad we sent a team."
David Boggs, PE, CPD / Executive VP of Design
Pickering Associates

"Since effective branch office management is dependent on many people's efforts, and especially the branch manager, we discovered that the value of this program was greatly enhanced by attending it together."
James B. Kleingers, PE, PS / President, CEO
The Kleingers Group