 In several strategic planning sessions over the last year and a half, one internal conversation has cropped up over and over again: the client company's opportunity to add an HR Director.
This has happened with various types of firms—general civil and survey, architecture, multi-disciplinary A/E, and environmental—and across various firm sizes (from 50 to 300 in total staff). So, what's going on?
Most of these clients didn't begin their strategic planning efforts thinking about growing corporate staff. In fact it's much more common for A/E leaders to worry about excessive overhead. And nearly all firms have a story or two about bad experiences with corporate support hires.
What happens is this: As the strategic assessment work unfolds (internal surveys of management and staff, and financial and operating performance benchmarking), it becomes increasingly clear that a variety of "people- related" shortcomings are impeding the organization's progress. A short list of these issues usually includes:
Recruiting opportunities and challenges
Onboarding strategies and practices
Training and development plans and initiatives
Mentoring process and practices
Performance management systems and coaching
Compensation (salary and incentive) benchmarking and programs
Career development and career pathing
Management and leadership development programs
Leadership transition planning
Often, as we get into the planning retreat meeting itself, and begin to prioritize key issues, opportunities, and the action agenda—nearly all of the firm's focus will be in the "people bucket!" At that point it's hard not to conclude that the absence of a talented, principal-level strategist in charge of HR is a real shortcoming—and just plain dumb. After all, a firm of professionals is composed of little more than the staff and team itself.
Adding on the right HR leader—to set strategy, guide execution of important plans, and manage the overall HR function isn't really about adding overhead. This position should be a highly leverage-able investment in the value of the firm's staff overall. This isn't bureaucracy—it's specialization of labor (thank you Henry Ford).
It's time that more firms stop trying to fake it in managing this important part of the business.
The proof? I have several clients for whom we've made this same recommendation (to add an HR Director) - some more than ten years ago. Today all of these agree that this was an outstanding investment—one of the best they've ever made. In fact senior leaders in a couple of these firms say they can't imagine how they ever got along without an HR expert.
What say you?
About the Author: John Doehring is Executive Leader of Advisory Services and Training at PSMJ Resources, Inc., and is responsible for the company's consulting and in-house training business worldwide. In addition to leading a diverse team of highly qualified professional consultants, trainers, and experts, John himself advises AEC firms in the areas of business strategy and planning, marketing and growth, organization development, and operations transformation.He has successfully led dozens of strategic business planning and operational improvement engagements for professional services firms of all types, sizes, and market focus. John's passion is helping leaders to plan for the future, grow their business, and make more money.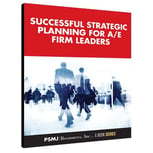 Looking for more tips, check out Successful Strategic Planning For A/E Firm Leaders.
In this free e-book, you'll find specific suggestions to help your architecture or engineering think of "planning" as something you do all the time, tending to it at regular intervals—as a process that never ends and an ongoing part of running a successful business.
Other strategic planning related blog posts:
8 Tips For Making Your Strategic Planning Meeting A Success

Get Strategic With These Planning Questions

Establishing Your Strategic Plan