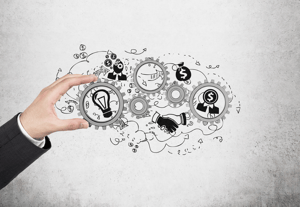 The Hinge Research Institute recently released their 2018 High Growth Study. The study, now in its third year, covers all professional services, including accounting, architecture, construction, consulting, engineering, finance, legal and technology.
With more than 1,000 companies participating, the study took an especially in depth look at A/E/C firms. In fact, architecture, engineering and construction services firms made up more than 21 percent of the sample.
While the study's main aim was to reveal insights into marketing and revenue generation across professional services, it also closely examined why some A/E/C firms grow faster than others — and exactly what actions they're taking to achieve that level of growth.
Here are five key A/E/C insights uncovered in the 2018 High Growth Study:
Slower average industry growth
In a trend consistent with professional services firms as a whole, A/E/C firms reported their third year in a row with a median annual revenue growth dip, down to 9.1 percent in 2017 from 10.3 percent in 2016. However, it isn't just A/E/C firms that are facing slower rates of growth. While consulting and technology companies are growing at a slightly faster rate than A/E/C firms, their growth percentages were also down heading into 2018.
The war for top talent has been a focus area for years but heading into 2018 – it was identified as the number one challenge to A/E/C firms. Market unpredictability and increased competition were also identified as major pressures, driving higher business development and marketing spend.
Yet, high growth is still happening
Nearly one-third of A/E/C respondents reported figures that classified them as "high-growth firms." This means they experienced compound annual growth of at least 20 percent for three consecutive years — and, for many firms, their growth rate was far higher. In fact, the median annual growth rate among high-growth firms was a staggering 36.7 percent, which is nearly three times the industry average.
The results demonstrated that potential for high growth was not dependent on firm size, with only 50 percent of the high-growth firms classified as mid-sized or large. So, what are these firms doing differently to achieve such success in an industry full of challenges and change?
The high-growth difference
The 2018 High Growth Study examined the habits and priorities of these firms to determine what was driving their higher than average growth numbers. The behaviors that most directly led to higher growth can be broken down into three categories:
Their priorities: Rather than focusing on the aspects of a changing industry that they can't control, high-growth firms were more likely to prioritize their own understanding of the marketplace. The results of the study revealed that high-growth firms were nearly four times as likely to perform regular research on their target markets.

Their focus: While they typically avoided specializing in a particular industry, high-growth firms are more likely to specialize, in general. This means they are adept at identifying the skills and features that differentiate their services from the competition.

Their approach: High-growth firms aren't necessarily investing more in marketing, but they are investing differently. While the AEC industry as a whole has been slower to adopt digital marketing tactics, high-growth firms are twice as likely to take a digital or content marketing approach. They also attend more conferences and events that prioritize visibility.
By examining the priorities, focus and approach that distinguish high-growth firms from slower-growth firms, A/E/C firms can identify potential areas for improvement to combat the declining industry average.
To learn more, download a free executive summary of the 2018 A/E/C research.
About the Author: Karl Feldman is a Partner at Hinge. He guides leading architecture, engineering, and construction clients through the complexities of research, marketing strategy, brand building, and web site development. Karl regularly blogs and speaks about professional services marketing and strategy.
PSMJ is always looking to publish diverse views on emerging issues and trends in the A/E/C industry. If you would like to respond on this topic or comment on any other, we invite you to submit a 500-word post on any industry-related topic. We look forward to hearing from you.
You also might be interested in these marketing related posts:
Guest Blog: Is it Branding or Marketing?
Attract Ideal Clients With An Inbound Marketing Strategy
Don't Be Fooled: Marketing Is Not Keebler Magic
Four Marketing Challenges for You
Marketing: Your Best Strategic Weapon