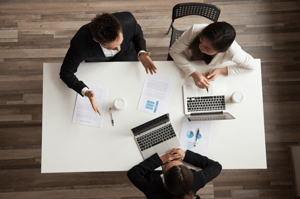 For architecture and engineering firm leaders who have have set their sights to becoming a firm owner, the first step is simple but true: Watch how the current owners deal with the dozens of issues involved in ownership transition.
Most importantly, understand how all the parts of the business operate and interrelate. Your firm should offer you broad enough responsibilities to provide you a wider view.
Familiarize yourself with the following:
Organizational structure
Types of structure possible in professional service firms

Responsibility and authority of top-level positions

Authority of owners
Strategic planning
Definition and purposes of strategic planning

How it's done

The ownership role
Managing professionals as owner
Evaluating performance and giving good performance reviews

Devising effective incentive and motivational programs

Evaluating the impact of personality on work habits and performance
Principal-level marketing
The marketing process

How to establish a structure for marketing

Defining your firm's message

How to work with the marketing department and use their support effectively
Finances
How your firm works as a business and financial entity

How to read and interpret the firm's balance sheet, income statement, and other financial documents

Determining the value of your shares

How to determine where improvements can be made in financial performance
Principals and projects
How principals should be involved in projects

Relationships between principals and project managers

Understanding a project's finances

How to correct firm-wide project problems

How to set a project's price from a principal's firm-wide contract considerations

How to negotiate contracts
Total quality management
Your firm's quality control process and how to achieve improvement

Your responsibility for quality

Defining professional liability and an owner's legal obligations
Industry trends and projections
Major changes expected over the next decade

The impact of current trends

What your competitors are planning for the next decade

How industry changes will affect your leadership

How to develop long-term strategies and plans
A/E/C firm owners who fail to plan properly on ownership transition are leaving the firm exposed to the potential for undesirable outcomes - including significant loss of firm value, brand equity deterioration, and loss of market position. Instead of being another ordinary seminar teaching you how to develop a plan, PSMJ's A/E/C Ownership & Leadership Transition Roundtable takes you through virtually every transition planning obstacle you will encounter (from affordability to leadership development and more) and how to overcome it.