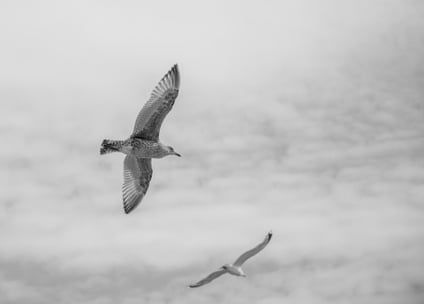 There are 10 specific qualities that all great leaders possess. Most of these qualities can be learned to some degree of competency by architecture and engineering firm leaders, and can certainly be improved upon with consistent focus.
Passion to work for reasons that go beyond money or status. Leaders work the long hours because they "love the chase." They want to make the difference. They have the desire to lead.

Love of learning and an appetite for knowledge. Leaders constantly read and study. What are you carrying around right now and reading? What was the last book you read?

Sense of urgency. Everybody believes the leader is a step ahead; yet, as you watch them, they act as if they are two steps behind. That is their sense of urgency.

Strong network. Shaking hands is not a network. Leaders allocate sufficient time to managing and developing relationships. They know they are in a people business. They know that people will ultimately define their success or lack of it. This includes relationships at all levels including peers, outsiders, subordinates, and your boss!

Boundless energy and overflowing optimism. A positive attitude is contagious. Leaders articulate a vision that is compelling, imaginable, desirable, and feasible.

Innovative. Become an idea generator. Read, read, read. Read everything you can get your hands on that will spark your creative thinking. Spend some time each day in a quiet spot where you can just think.

Possess a professional competency valued by the company. Leaders possess a skill that the company values, whether it is design, technical competency, or operational excellence.

Have a clear vision of what you want. Leaders know exactly where they want to go. Their plan may change over time as new opportunities develop, but at any given time they must know the direction they are headed.

Impeccable integrity. In everything you say, and even more importantly, in everything you do.

Mission-driven. Leaders are "mission-driven." A person that is mission-driven has more of a sense of urgency than being merely "goal-oriented."
About the Author: Alan Bollinger, who has 34 years in the engineering and construction industry, has been teaching, facilitating, and inspiring with PSMJ for more than 20 years. Alan has personally trained thousands of project managers on the principles of successful project delivery and financial management. He is a highly experienced project manager himself, who is responsible, over the course of his career, for project identification, scope and fee development, project team selection, and leading the execution of collective work.
Maintaining strong backlog, sustaining profitability, finding and keeping top talent...just some of the priorities that are top-of-mind with today's A/E/C firm leaders. Of course, knowing what to do is the first step towards being an effective principal. But, actually doing it is often what separates the "real deal" firm leaders from the others. "Real deal" firm leaders aren't just born that way. Rather, they develop through proven guidance and experience. They develop by staying close to those who have been there and learning from the seasoned experts. They develop by attending PSMJ's A/E/C Principals Bootcamp.
You also might be interested in these leadership-related blog posts:
Expert Interview: Developing Next Generation Leaders
Stretch Yourself to Reach Your Leadership Potential
Trend Line: How Do A/E Firm Leaders Charge Their Time?
What Does It Take To Be A Leader?