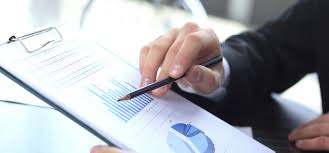 Trend information from PSMJ's 2017 A/E Management Compensation Survey indicates interesting shifts among certain architecture and engineering firm management positions on the percentage of time charged to projects and to the business development overhead accounts of design firms.
One key indicator of economic health for a design firm is the percentage of time charged to projects by various management personnel. Time charged to client projects is more common in project-related titles (for example, project managers, department heads, etc.). In very small firms (1 to 20 total staff), chargeability is high even for senior manager titles, indicating their management duties are considered a part-time task, with project execution as a large part of the manager's responsibility. It is very unusual for most administrative, financial, and business development positions to charge much time to projects.
While the overall results are somewhat similar to last year's, we noticed shifts did occur among certain positions. For six out of 18 management positions, the percentages of time charged to projects decreased slightly in comparison to the levels reported in the 2016 survey. While for more project-oriented positions (PMs and senior PMs) time charged to projects decreased slightly in comparison to last year, project time increased for chairmen of the board, CEOs, COOs, other principals, branch office managers, and department heads. (see chart below).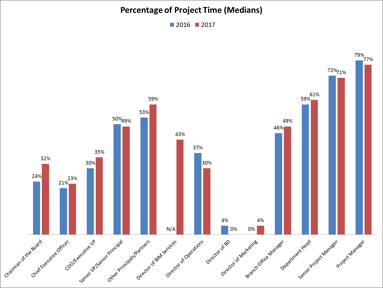 Meanwhile, the relative commitment to marketing and selling the firm's services is indicated by the percentage of time charged to the business development overhead accounts of design firms.
Unfortunately, time allotted to support business development may be understated in these results because many firms do not record senior managers' time for these activities separately from other overhead functions.
The industry has a habit of under-recording business development time charges due to government contract cost regulations and poor time recording habits by principals and senior management.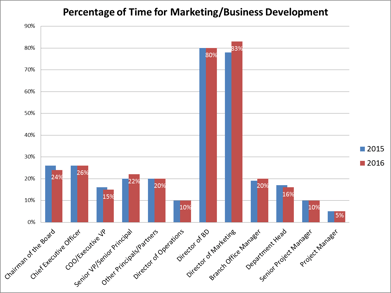 However, since each firm's policies on time recording are consistent within the individual firm, the internal relationship of time spent in business development should reflect an accurate comparison among positions in the firm.
For many positions, the percentage of time spent on business development held relatively steady with respect to the 2016 survey.Interestingly, it increased for the following management positions: Director of Marketing, Senior VP/Senior Principal, and Branch Office Manager (see chart below).
PSMJ's 2017 A/E Management Compensation Survey includes the participation of 191 architecture and engineering firms and reflects the compensation of nearly 7,500 individual design managers. This information was collected in January and February 2016, and reflects the most current salary, bonuses and total compensation measures for 18 design management titles. The survey provides breakdowns of these compensation measures within important peer groups reflecting different firm sizes, types of service, and types of client.
What is the take away: Comparing current data to how your firm leaders charge their time helps to ensure your potential salary changes, overhead, and profit are in line with industry benchmarks.
However, the fundamental key to planning is quality data, and PSMJ's rigorous survey program provides the accurate and relevant industry metrics that architecture and engineering firm leaders rely on. Your participation is needed to ensure that firms of all types, locations, and sizes are well-represented in PSMJ's 2018 surveys.
Participation Open Now—Be A Part Of Our 2018 Surveys

Be a part of the preeminent source of current, accurate, and significant benchmarking data. Be a part of the A/E benchmarking surge. Don't be left behind.