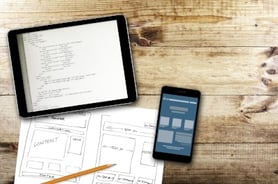 Today's technology combined with an increased client expectation for intense involvement in their projects has given birth to numerous digital, collaborative tools.
One of the most useful is the online whiteboard, which allows users and viewers to present drawings and documents, and to mark them up and record the interaction in real-time.
Online whiteboards are fantastic for working with your architecture or engineering firm's clients, as well as with your subconsultants and other project stakeholders. Here are four of the more popular ones:
1. Conojo Whiteboard (conojo.com)
Conojo is the new kid in town for collaborative tools, and has focused on iPad integration rather than on computer browsers. Users can import and export multiple file types, and collaborate on them in real time with other Conojo users.
Users can record videos of brainstorming sessions, and can take snapshots during the collaborative process. Conojo is a free iPad app, which is really its major limitation – that it's not yet available on other tablet operating systems.
2. Twiddla (twiddla.com)
Twiddla allows users to present documents, drawings, and graphics, while giving all viewers tools to mark them up online. It's real time, so you can see what people are marking up while they're doing it.
No application is necessary, because Twiddla works in any browser on any computer. There is a free version, but users can also subscribe to pro, team, or business accounts from between $14 and $189 per month.
3. Scribblar (scribblar.com)
Scribblar is one of the most popular online collaborative whiteboards, allowing real-time audio, uploading of numerous document file types, mark-up by all users, and text-chat. It works in your browser, on both PC and Mac platforms.
It's free for both users and viewers, but as with most online whiteboard services, Scribblar offers enhanced packages from between $9 and $39 a month, depending on if you select the basic, starter, standard, or premium package.
4. Groupboard (groupboard.com)
Groupboard was created in 1998 and so has had the benefit of almost two decades of learning and improvements. It works on all platform browsers, but also has an iPad and Android version so tablet users can participate in the collaboration.
Like all tools in this list, markup is real-time. There is a free version with limited users and file uploads, but packages that increase the number of users and simultaneous collaboration can be purchased from between $99 and $499 per year.
We want to hear from you. If you're interested in submitting a guest article to PSMJ's Blog, click here:
In the PSMJ Blog, we have covered technology and the A/E industry from a number of angles. Here is a list of technology-related blog posts:
10 Tips for Effective Project Management with BIM

Where 3D Printing Plays in the A/E/C Arena

3D Printing for A/E/C: How Viable is It?