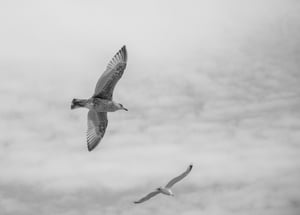 As a principal in your architecture or engineering firm, you are almost certainly a very good leader or a very good manager.
But you probably aren't both. Here's a quick quiz to help you figure out which one you are:
1. I am better at:
A. Creating new ideas
B. Implementing ideas successfully
2. I am better at:
A. Inspiring people
B. Managing people
3. I get:
A. Bored when I work on one project too long
B. Frustrated when I can't see a project through to its successful conclusion
4. I focus on:
A. My long-term career plan
B. The day-to-day activities needed to be successful
5. I enjoy:
A. Finding new work with new clients
B. Doing a great job of satisfying my existing clients
If you selected A for most of these questions, you are a better leader than manager. If you selected B, you are a better manager than leader.
Here's the rub: To be really successful, you need both leadership and management skills. Since you probably aren't good at both, find someone who is your opposite and team up with him or her. For example, if you are a branch office manager and are a great manager, find someone in the office who has great leadership skills to help you when leadership is needed.
Perhaps the most important application of this principle is for the president or managing partner of the firm. When firms reach about 75 to 100 employees, they often divide the president's or managing partner's duties into two key positions: a Chief Executive Officer (CEO) for leadership and a Chief Operating Officer (COO) for management. Even if your firm is smaller, you can still team up with another principal who has a complementary skill and divide your duties accordingly.
About the Author: David Burstein, P.E., is a PSMJ consultant and seminar leader. He can be contacted at dburstein@psmj.com.
Maintaining strong backlog, sustaining profitability, finding and keeping top talent...just some of the priorities that are top-of-mind with today's A/E/C firm leaders. Of course, knowing what to do is the first step towards being an effective principal. But, actually doing it is often what separates the "real deal" firm leaders from the others. "Real deal" firm leaders aren't just born that way. Rather, they develop through proven guidance and experience. They develop by staying close to those who have been there and learning from the seasoned experts. They develop by attending PSMJ's A/E/C Principals Bootcamp.
You also might be interested in these leadership-related blog posts:
Expert Interview: Developing Next Generation Leaders
Stretch Yourself to Reach Your Leadership Potential
Trend Line: How Do A/E Firm Leaders Charge Their Time?
What Does It Take To Be A Leader?