When asked if their firm's strategic plan has been helpful during the COVID-19 crisis, 45 percent of attendees to the PSMJ Podcast Presents "Update Your Strategic Plan NOW to Better Navigate Business Uncertainty," said "somewhat."
That number is "great news," says PSMJ's Susan Israel, Susan Israel, AIA, LEED AP, about the fact that almost half the audience saw their firm's plan as useful during a crisis. She encourages every firm to view the strategic planning process amid working from home, burning through backlogs, and more, as critical.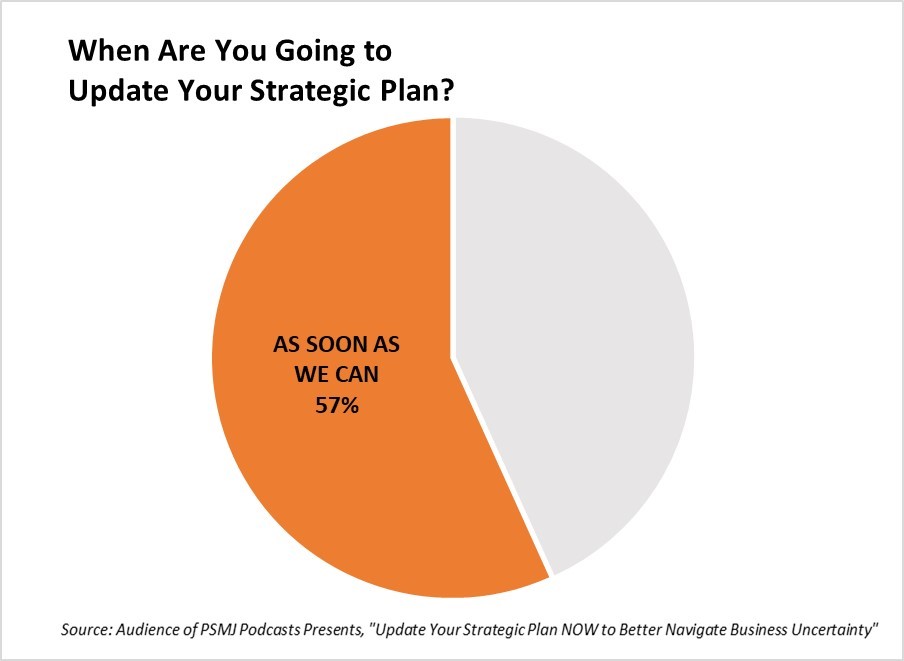 THE KEY IS PROCESS
For those firms whose markets have been stalled or pummeled, the need to think strategically is now more important than ever. But everyone can benefit from thinking strategically. "Going through the strategic planning process can help you identify what are your strengths, your core values, and more," she explains. The key is to step back and stop what you're doing and evaluate your firm in a meaningful way.

She sees the immediate threat to culture as job one. "Informal systems we had in place fall away," Israel says. "This is a time of adjustment that must address the culture issue." Ignore how people are interacting with each other and you will see productivity and efficiency drop off. "Morale and synergy will suffer," she says.

This strategy is key to keeping star performers as well. Employees want to know that employers have a plan for business. "They want to see that leadership is moving forward and making necessary decisions," Israel says.

Further, when you make decisions, let everyone know what you are planning. Communicate the direction you are taking and include staff in the journey. "A good strategic planning process will allow you to do that," Israel says.

Listen to PSMJ Podcast Presents "Update Your Strategic Plan NOW to Better Navigate Business Uncertainty" on Soundcloud (https://soundcloud.com/user-465659173/update-your-strategic-plan-now-to-better-navigate-business-uncertainty) or wherever you listen to your favorite podcasts.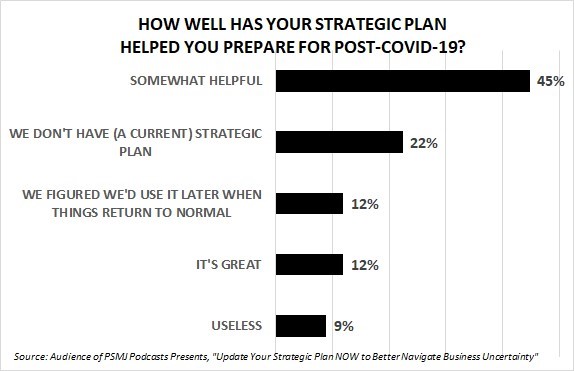 PSMJ's A/E Strategic Planning Study is available for purchase or as a free download to PSMJ members.