A/E Strategic Planning Study: Best Practices in Strategic Planning for A/E Firms
Publisher: PSMJ Resources, Inc.
Date Published: 2020
Number of Pages: 30
Availability: In-Stock
Format: PDF
Price: $247 (Free with a PSMJ Membership. Click here to become a member.)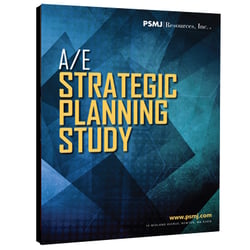 In PSMJ's A/E Strategic Planning Study: Best Practices in Strategic Planning for A/E Firms, we begin by providing you with the results of a survey that we did with 184 firms in 2020 and 75 firms in 2012 on how they conduct strategic planning.
In this report, we compare this year's results with those from 2012 and provide you with some information on what we have gleaned from the survey. We also present the nature and demographics of the participants in this study.
In addition, we have mined the data to figure out what works and what doesn't work in strategic planning by correlating data on a variety of strategic planning practices with how they have contributed to a shared vision among firm leaders and if they have improved firm performance.
Then, to help you conduct better strategic planning at your firm, we talk specifically about some things that we have learned over the many years we have been engaged in strategic planning with architecture and engineering firms.
And finally, we wrap up with some recommendations on best practices in strategic planning. Our goal is to provide new insight into best practices for A/E firm strategic planning.
To our knowledge, with a diverse group of participants and rich analysis on firm strategic planning practices and the effectiveness of these practices, this is the most comprehensive research of its kind that has ever been conducted in the A/E industry—certainly that has been conducted recently.