Though the concept of seller-doer has been around for quite a while, it's still relevant and, combined with a client-centric strategy, the model can mean big wins for design firms. Research shows that typically an architecture or engineering firm gets 80 percent of its revenues from current and past clients who are kept in the fold by their seller-doers.
According to SMPS's "Sell. Do. Win Business. A Report on How A/E/C Firms are Using Staff to Win More Work", many current seller-doers' responsibilities are extremely client-oriented, as indicated in the chart below.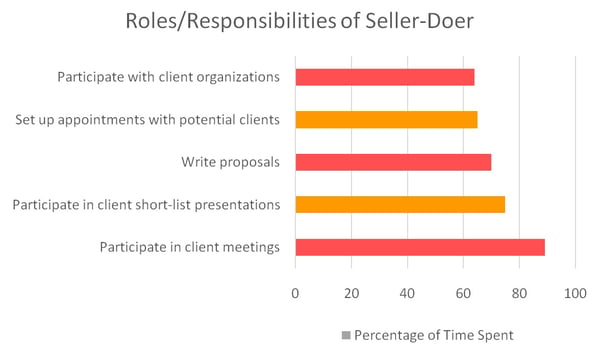 But they have their challenges and to provide true client-centric service, some training may be necessary. According to Scott D. Butcher, FSMPS, CPSM, seller-doers have very specific traits and tasks:
• Typically not trained in sales techniques (unlike BDs)
• Manage client relationships and drive new business from existing clients
• Balance billable work with sales responsibilities, which could fluctuate between 10 percent and 50 percent of their time
• Often are the only employee engaged in business development in smaller/specialized firms
WORK WITH BD STAFF
The work of seller-doers is not redundant with that of business development (BD). Rather, BD staff enhance the effectiveness of seller doers. When pursuing major projects, experts recommend the BD and seller doers work in tandem, with the seller doer functioning as proposal manager and the business developer working as a sales lead. The following chart shows how combining both skill sets helps to win a big pursuit:
ACTIVITY SALES LEAD PROPOSAL MANAGER
Identify specific opportunities X
with quality clients
Make go/no go recommendation X
Recommend a proposal manager X
Develop "win" themes and strategy X X
Establish a proposal team, budget, X X
and schedules
Obtain client intelligence (ongoing) X
Assess the competition X
Manage the proposal effort
Lead the "red" team X
Ensure success X X
ORGANIZATIONAL SHIFT
To deliver true client-centric service everyone needs to work together to provide a seamless customer experience. To do this well and differentiate your firm in the process, consider these five questions:
1. How should we change incentives and priorities?
2. Does our organizational structure work?
3. How can we provide personalized customer experiences (technology) that allows us to still make a comfortable profit?
4. What business processes need to change?
5. How do we make necessary adjustments without disrupting current operations?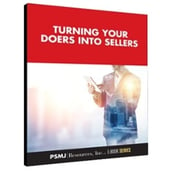 In PSMJ's free ebook Turning Your Doers into Sellers, we help you navigate through some of the thornier parts of getting started as well as implementing a realistic and successful Seller-Doer program.
You also might be interested in these related posts:
Get Your Team in Marketing Gear
Marketing: Your Best Strategic Weapon