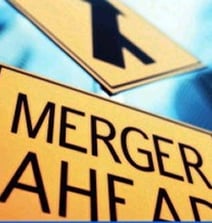 Here's a recap of some of the latest A/E/C mergers and acquisitions that have been announced in recent weeks.
May 5, 2021 – Infrastructure services firm Ulteig (Fargo, ND) acquired NLS Engineering (Hamilton, Ontario), an engineering firm that specializes in utility-scale solar, battery storage, water and wastewater. "This acquisition enhances and strengthens Ulteig's capabilities across the U.S. border into Canada and expands our existing business lines, including system integration and SCADA," says Doug Jaeger, president and CEO of Ulteig
May 4, 2021 – 1,500-person engineering design firm IMEG Corporation (Rock Island, IL) acquired MEP engineering firm MSA Engineering Consultants (Las Vegas, NV). "We are extremely pleased to welcome MSA into our company; they are an exceptionally strong engineering firm in the Las Vegas area," said IMEG President/CEO Paul VanDuyne. "By blending our engineering capabilities, with David Melroy's leadership we are creating a strong synergy for growth in the entertainment, gaming, and hospitality market sectors within the region."
May 4, 2021 – Terracon (Olathe, KS) acquired 20-person geospatial location intelligence firm Pivvot (Kansas City, MO). "Our clients demand innovative solutions that keep their projects moving forward quickly and efficiently," said Gayle Packer, Terracon chair, president, and CEO. "Pivvot's location intelligence solutions, together with Terracon's own suite of technology products for site selection and project data management, allow us to leverage the power of data to accelerate projects and provide an unmatched client experience."
May 1, 2021 – The Mannik & Smith Group (Maumee, OH) has announced that North Point Engineering Corporation (North Canton, OH) agreed to merge with it firm, effective March 31, 2021. The merger will expand MSG's environmental engineering business and stretch it into agricultural engineering services. The two company's strong landfill and environmental services complement each other.

April 28, 2021 – SWCA Environmental Consultants (Phoenix, AZ) acquired Sycamore Environmental Consultants (Sacramento, CA), an environmental consulting services, compliance, and permitting firm. "Sycamore has been a leader in northern California since 1991, and we're thrilled to welcome them to SWCA," said SWCA CEO Joseph J. Fluder, III. "Their experience with infrastructure and transportation projects, as well as renewable energy and linear projects is well respected."
---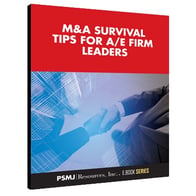 Merger & Acquisition (M&A) activity in the architecture and engineering space is certainly on the upswing and well on its way to reaching pre-recession levels. But, how ready are you for taking on the task of buying or selling an A/E firm? If you are looking for tips to help your firm navigate through the M&A process, check out PSMJ's complimentary ebook M&A Survival Tips for A/E Firm Leaders.
Other M&A Related Posts:

Looking for Growth in All the Wrong Places...
Getting Ready to Sell? Think Like a Buyer!
What You Must Know About Private Equity
Growing Revenue = Growing Valuation? Be Careful What You Wish For!