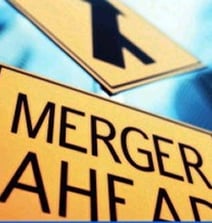 Here's a recap of some of the latest A/E/C mergers and acquisitions that have been announced in recent weeks.
June 23, 2021 – Private equity firm Godspeed Capital Management acquired Austin Brockenbrough & Associates (Richmond, VA) to create a new engineering and consulting business that will serve public and private sector customers. Austin Brockenbrough & Associates and Prime Engineering, a portfolio company of Godspeed Capital, will merge into a new entity called Prime ABA to offer services such as architecture, design, surveying and construction management. PSMJ's M&A team advised Austin Brockenbrough & Associates and Prime Engineering on their transactions with Godspeed Capital Management.
July 8, 2021 – Universal Engineering Sciences (Orlando, FL) acquired environmental engineering firm Geotechnology (Maryland Heights, MO). Universal Engineering executives said its acquisition of Geotechnology, headquartered on Lackland Road in Maryland Heights, will help Universal Engineering reach its goal of becoming a $1 billion company.
July 1, 2021 – Civil engineering firm Tatham Engineering (Collingwood, ON) acquired the shares of Runge Engineering (Collingwood, ON). Runge's focus on electrical and mechanical engineering will be an asset to Tatham, who currently specialize in land development, municipal infrastructure renewal, structural, bridges, transportation, water resources, coastal and water and wastewater engineering.
June 29, 2021 – Global architecture, design, and planning firm Perkins Eastman (New York, NY) and MEIS (New York, NY), a multi-discipline architecture and design practice known for its sports, entertainment, and urban activation venues, announced they are joining forces. Dan Meis, founder of MEIS, looks forward to stepping into Perkins Eastman's global footprint. "We've worked together in the past, we've had a relationship for years. From my perspective, it's the ability to scale that excites me."
June 28, 2021 – Architecture and structural engineering firm CORE Design Group (York, PA) announced that it will be merging with Richard F. Mulá Architects (Lancaster, PA). "With this merger, we are combining our strengths to offer a deeper understanding of the professional services we can provide to our clients in different market sectors," said Richard F. Mulá, Founding Principal of Mulá Architects.
June 23, 2021 – Salas O'Brien (Santa Ana, CA) agreed to acquire PCI Skanska (Evansville, IN) from Skanska USA. The PCI team enhances Salas O'Brien's experience in important markets including pharmaceuticals, food and beverage, chemicals, and other industrial applications. "Manufacturing, life sciences, food and beverage, utilities, and other process-driven markets are incredibly important to the American economy," said Darin Anderson, Salas O'Brien chairman and CEO. "I am so pleased to welcome the PCI team to Salas O'Brien."
June 23, 2021 – Global project management company Versar (Springfield, VA) announced that it has acquired the environmental services business unit of Black & Veatch (Overland Park, KS) focused on Federal government customers. The acquisition is consistent with Versar's strategic focus of growing Versar's Environmental Services Group by enhancing its capabilities within environmental remediation and site restoration.
---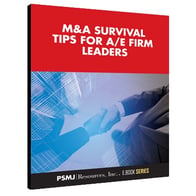 Merger & Acquisition (M&A) activity in the architecture and engineering space is certainly on the upswing and well on its way to reaching pre-recession levels. But, how ready are you for taking on the task of buying or selling an A/E firm? If you are looking for tips to help your firm navigate through the M&A process, check out PSMJ's complimentary ebook M&A Survival Tips for A/E Firm Leaders.
Other M&A Related Posts:

Looking for Growth in All the Wrong Places...
Getting Ready to Sell? Think Like a Buyer!
What You Must Know About Private Equity
Growing Revenue = Growing Valuation? Be Careful What You Wish For!