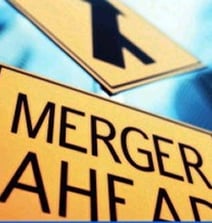 Here's a recap of some of the latest A/E/C mergers and acquisitions that have been announced in recent weeks.
March 4, 2020 – Landscape architecture and urban design firm Confluence (Des Moines, IA) acquired landscape architecture firm Land Elements (Fargo, ND). "We reviewed the North Dakota market for several years looking for the right strategic opportunity – one that was consistent with who we are at Confluence and the way we work," Senior Vice President Wm. Christopher Cline.
March 3, 2020 – KCI Technologies (Sparks, MD), a multi-discipline engineering company, acquired the civil engineering and construction engineering and inspection (CE&I) practices of Landtech (Houston, TX). "Landtech's capabilities and experience with TxDOT and local jurisdictions complement our strategic vision for growth within the state of Texas," said KCI CEO and President Nathan J. Beil, PE, D.WRE.
February 26, 2020 – TLC Engineering Solutions (Orlando, FL) acquired Gage Consulting Engineers (Oak Brook, IL), Gage's expertise in health care, education, municipal and commercial building engineering complements TLC's major market sectors, expanding TLC's geographic markets. "When we met the Gage team, it was evident that their culture, experience and people aligned very well with TLC and our core values," said TLC's CEO, Michael P. Sheerin.
February 20, 2020 – Engineering, environmental, and land surveying firm CES (Brewer, ME) acquired civil and environmental engineering firm Haley and Ward (Maynard, MA). Offering a complete range of professional engineering services through the planning, design and construction of water supply, sewer and stormwater handling systems, Haley and Ward complements the services we provide," said CES President and CEO Denis St. Peter.
February 19, 2020 – Architecture and engineering firm Schmidt Associates (Indianapolis, IN) merged the work and staff of healthcare firm Arrasmith (Louisville, KY) into its operations. "We're thrilled to welcome the Arrasmith team into the Schmidt Associates family," said Sarah Hempstead, principal and CEO of Schmidt Associates. "With this integration comes tremendous opportunity for growth and new pursuits that will benefit our clients and the communities in which we build."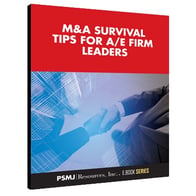 Merger & Acquisition (M&A) activity in the architecture and engineering space is certainly on the upswing and well on its way to reaching pre-recession levels. But, how ready are you for taking on the task of buying or selling an A/E firm? If you are looking for tips to help your firm navigate through the M&A process, check out PSMJ's complimentary ebook M&A Survival Tips for A/E Firm Leaders.
Other M&A Related Posts:
Getting Ready to Sell? Think Like a Buyer!
What You Must Know About Private Equity
Growing Revenue = Growing Valuation? Be Careful What You Wish For!