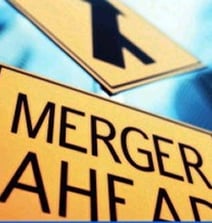 Here's a recap of some of the latest A/E/C mergers and acquisitions that have been announced in recent weeks.
November 9, 2020 – Architecture firms BDG Architects (Tampa, FL) and Fleischman Garcia Architecture (Tampa, FL) have merged. The combined firm will employ 130 people in six offices located in three states. Locally, in addition to Tampa, it will have a presence in Safety Harbor and Sarasota. "BDG and Fleischman Garcia complement each other very well," BDG Architects President Chris Kirschner states in the release. "I have been an admirer of Fleischman Garcia's work for over 20 years and they have an incredibly talented team of project architects and interior designers with an average of 30 years of experience each."

November 3, 2020 – Consulting and engineering services firm Ardurra Group (Tampa, FL) acquired engineering consulting firm Pigeon-Roberts & Associates (Ocala, FL). With this deal, Ardurra Group seeks to bolster its footprint in Florida's water market. Ardurra CEO Ernesto Aguilar said "Pigeon has a strong reputation for delivering quality projects to long-standing clients, which is in line with our core values. This addition to the Ardurra family expands our presence in the Florida market."

November 2, 2020 – Jensen Hughes (Baltimore, MD) acquired of CFT Engineering (Burnaby, British Columbia), a fire protection engineering and building code consulting firm. "CFT has long been on our radar, especially since many of our team members share the same fire protection engineering heritage and have known each other for decades. We are thrilled we were able to make this happen, as it accelerates the strategies for both businesses and allows us to provide the market with the strongest team of fire protection engineers," says Raj Arora, CEO of Jensen Hughes.

November 2, 2020 – Global Infrastructure Solutions Inc. (New York, NY) and The LiRo Group (Syosset, NY) announced that their previously announced merger has closed, advancing the companies' shared strategy for growth in the construction-management and engineering industry. "As with GISI's prior mergers, LiRo will retain its brand as a way to honor its legacy," said GISI President, CEO and Co-Founder Rick Newman.

October 29, 2020 – Barr Engineering (Minneapolis, MN) acquired King & MacGregor Environmental (Grand Rapids, MI), which specializes in natural resource consulting and environmental services, particularly wetland and water body assessments, the design of constructed wetlands and environmental reviews and permitting. "We're excited to have KME join us," John Lee, president and CEO of Barr Engineering, said in a statement. "Their team members are highly regarded experts in their fields of practice, and they share our deep commitment to providing clients with exceptional service."

October 6, 2020 – Engineering, planning, environmental and landscape architecture firm Barton & Loguidice (Liverpool, NY) acquired Anchor Engineering Services (Hartford, CT), a multidisciplined engineering and land surveying firm. According to John Brusa Jr., P.E., President and CEO of Barton & Loguidice. "We're enthusiastic about the opportunity to expand our service offerings with Anchor's talented team and its deep roots in Connecticut and the New England region."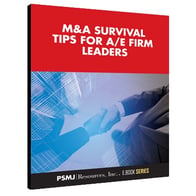 Merger & Acquisition (M&A) activity in the architecture and engineering space is certainly on the upswing and well on its way to reaching pre-recession levels. But, how ready are you for taking on the task of buying or selling an A/E firm? If you are looking for tips to help your firm navigate through the M&A process, check out PSMJ's complimentary ebook M&A Survival Tips for A/E Firm Leaders.
Other M&A Related Posts:
Getting Ready to Sell? Think Like a Buyer!
What You Must Know About Private Equity
Growing Revenue = Growing Valuation? Be Careful What You Wish For!