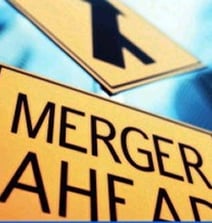 Here's a recap of some of the latest A/E/C mergers and acquisitions that have been announced in recent weeks.
January 13, 2021 – Full-service architecture, engineering, and construction management firm SSOE Group acquired design firm Stevens & Wilkinson (Atlanta, GA) and its sister interior design studio IDEA | SPAN. "We are excited to welcome Stevens & Wilkinson to our SSOE family," said Catherine Myers, PE, Chair of SSOE's Board of Directors and Chief Operating Officer. "We see immediate opportunities to grow our overlapping markets as well as take S&W's impressive judicial and historic renovations portfolio across our geographic footprint."

January 11, 2021 – Moseley Architects (Richmond, VA) merged with architecture firm Cummings & McCrady (Charleston, SC). "Merging with Moseley Architects will allow the Charleston office to gain the resources and expertise necessary to not only attract new clients, but to broaden our services offered to existing clients.

January 11, 2021 – Terracon (Olathe, KS) acquired environmental compliance and engineering services firm Burleson Consulting (Folsom, CA). "Navigating the environmental compliance and permitting process can be challenging and time-consuming for many of our clients," said Gayle Packer, Terracon president and CEO. "The addition of Burleson further strengthens our existing environmental practice in California and the Western U.S."

January 9, 2021 – Round Table Capital Partners (Miami, FL) acquired civil and environmental engineering firm Duffield Associates (Wilmington, DE) and engineering and scientific consulting firm HSW Consulting (Tampa, FL) to expand on the July 2020 acquisition of environmental, energy, and infrastructure consulting firm Hull & Associates. The leaders of Hull, Duffield and HSW remain with the company as senior leaders within the new organization. Gerry Salontai, CEO of the platform, explained, "Each of these companies has outstanding leadership in place that will allow continued success individually while building a combined leadership team moving forward."

January 7, 2021 – Universal Engineering Sciences (Chantilly, VA), a geotechnical engineering, construction materials testing, building code compliance, threshold inspections and environmental consulting firm, has acquired Wallace-Kuhl & Associates (West Sacramento, CA), a full-service geotechnical, geologic, materials testing and environmental engineering consulting firm.

January 7, 2021 – Bowman Consulting Group (Chantilly, VA) acquired of KTA Group (Herndon, VA), a 40-person engineering firm with core expertise in mechanical, electrical and plumbing engineering, commissioning, third party plan review, and lighting design. "The completion of this acquisition signifies the launch of our initiative to accelerate growth by selective and intentional M&A," said Gary Bowman, Chairman and CEO of Bowman.

January 5, 2021 – Geotechnical and materials consulting firm Burns Cooley Dennis (Ridgeland, MS) acquired the business of geotechnical engineering services and equipment firm SoilTech Consultants (Ridgeland, MS), an affiliate firm of Neel-Schaffer, Inc. "Burns Cooley Dennis has been a great teaming partner with Neel-Schaffer for years," said Robert Walker, PE, the Executive Vice President for Neel-Schaffer's Central Region. "We feel confident that this transaction is in the best interest of both firms and it will allow both firms to strengthen the services we offer to our clients."
---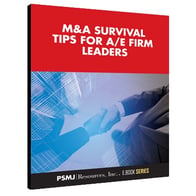 Merger & Acquisition (M&A) activity in the architecture and engineering space is certainly on the upswing and well on its way to reaching pre-recession levels. But, how ready are you for taking on the task of buying or selling an A/E firm? If you are looking for tips to help your firm navigate through the M&A process, check out PSMJ's complimentary ebook M&A Survival Tips for A/E Firm Leaders.
Other M&A Related Posts:

Looking for Growth in All the Wrong Places...
Getting Ready to Sell? Think Like a Buyer!
What You Must Know About Private Equity
Growing Revenue = Growing Valuation? Be Careful What You Wish For!