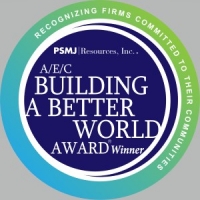 PSMJ's exclusive A/E/C Building a Better World Award recognizes architecture and engineering firms demonstrating the strongest commitment to community improvement by encouraging employee volunteering, donating resources and sharing expertise.
PSMJ Resources, Inc. has announced three winners of the 2019 A/E/C Building a Better World Award: PAE Engineers (Portland, OR), CERM - Corporate Environmental Risk Management (Tucker, GA) and Smith Seckman Reid, Inc. (Nashville, TN).
The annual A/E/C Building a Better World Award recognizes firms demonstrating an outstanding commitment to improving lives and communities through donations of time, resources, creativity and energy. Nominated firms are judged by a select committee based on scored assessments of employee involvement, executive commitment, duration and longevity of programs, and level of impact.
"Firms nominated for an A/E/C Building a Better World Award come in all sizes, from less than 10 architects to over 10,000 civil engineers. What they share is a realization that giving time and resources to those less fortunate is the right thing to do. And more and more, the most sought-after candidates for open positions are judging firms on their level of community outreach and philanthropy," says Frank A. Stasiowski, FAIA, Founder and CEO of PSMJ Resources.
"Firms landing the best new architects, engineers, executive and non-technical staff members are the same ones doing their part to build a better world. That's not a coincidence," he adds.

PSMJ will honor A/E/C Building a Better World award-winning firms at A/E/C THRIVE 2019: The Growth, Profit, and Success Summit for A/E/C Firm Leaders on October 2-4, 2019, in New Orleans, LA. This unique conference is an opportunity to hear directly from the leaders of top-performing firms and other industry visionaries on specific growth, profit, and performance improvement practices and how to replicate them.